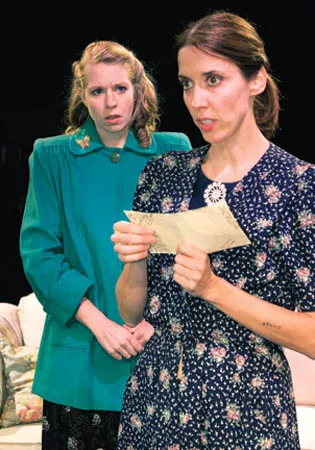 In time for Thanksgiving, Little Lake Theatre Co. is putting aside the froth and serving up a satisfyingly meaty play. Barbara Lebow's A Shayna Maidel (1985) celebrates family in a modest format that makes small demands on production while tackling big ideas without sentimentality.
The time is shortly after World War II and the liberation of the Nazi concentration camps. The big questions of the Holocaust are set aside for the personal priorities of relatives and survivors finding each other -- and themselves. A Shayna Maidel focuses on two sisters. Rose, the younger, came to the U.S. with their father years earlier, and considers herself fully Americanized. Lusia, the elder, was left behind in Poland, with their mother. Much of the play is told in her imagination and memories. The horrors need not be told; we already know what the characters allude to in their obsessions with lists.
It's a delicate drama, which Jena Oberg directs with a light touch and well-chosen cast. Jenny Malarkey transforms Rose from a shallow "American girl" -- a self-denying if not self-hating Jew -- into a mature woman who recognizes and tries to grapple with the depth of her loss, in the high point of the play. As her sister, Mary Liz Meyer morphs from the wide-eyed frightened refugee into the playful Polish schoolgirl and the sensual young wife, ultimately to project the fear, anger and hope of the survivor.
Ably supporting the sisters' tale are John E. Reilly as the stern patriarch; Pat Cena Fuchel as the playfully loving mother; Sarah Charlier-Vermeire as Lusia's long-time friend and surrogate sister; and Gregory Caridi as the husband of Lusia's dreams. Let's also give a hand to resident designer Martha Bell, period clothing and whatnots from local consignment store It's New to Me; and properties manager Leigh Ann Frohnapfel.
It's a nicely crafted play, sensitively produced and superbly acted. A Shayna Maidel commemorates a real joy and thankfulness, without shmaltz, although the dialogue in Yiddish may be difficult to follow. L'chaim.
A SHAYNA MAIDEL continues through Nov. 26. Little Lake Theatre, 500 Lakeside Drive (off Rt. 19), Canonsburg. 724-745-6300 or www.littlelake.org