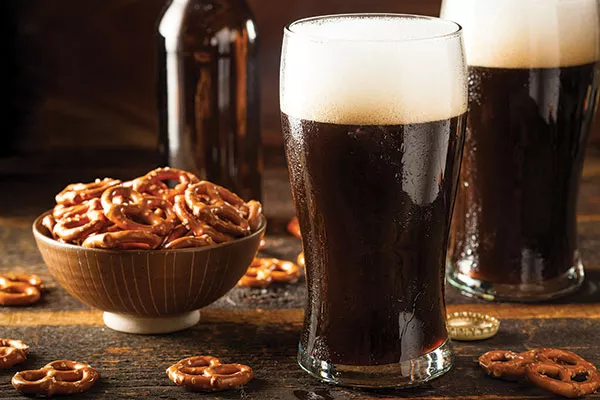 After an unseasonably warm autumn, Pittsburgh has finally received its first dose of winter weather, with bitter winds and a few flurries sweeping across the region. The changing weather prompts a new wardrobe, new things to complain about and, of course, new drinking habits. Hot toddies and Beaujolais Nouveau are classic choices, but when the mercury plunges, I find myself reaching for the darkest beer I can find. And since I'm sure I'm not alone, I set out to assemble a quick primer on all things dark and delicious.
So what makes a dark beer dark? It all comes down to the malts. Though all beer relies on malts (cereal grains that have been allowed to germinate, then dried to halt the germination process), dark beers are unique in their use of black and dark malts. These grains are heavily roasted to achieve the characteristic color as well as the caramelized, toasty flavors we love.
The blanket term "dark beer" encompasses everything from classic styles like schwarzbier (a dark German lager) to the relatively new and trendy black IPAs. The most familiar dark beers, however, are generally billed as either porters or stouts. As it turns out, the line between those two styles is rather blurry indeed, and many argue that there is no practical difference at all. Historically, stouts evolved from porters, with English brewers aiming to create a "stouter" version of their country's beloved porter beers. Though the two styles often overlap, today's stouts still tend to be a bit bolder and stronger than easy-drinking porters.
Within those two broad categories is a range of styles to suit any palate. Many porters and stouts will satisfy lovers of bitter flavors, as they often feature notes of coffee and dark chocolate. If you prefer a sweeter beer, reach for a milk stout, which uses lactose to add some residual sweetness. And craft brewers regularly experiment with a wide range of additions to their dark beers, throwing in everything from ancho chiles to oyster shells to create intriguing layers of flavor.
Locally, options for great dark beers abound. Latrobe's Four Seasons Brewing won a Great American Beer Festival medal in 2014 for its Dark Side of the Pint, a smooth oatmeal stout with notes of coffee and smoke. The Brew Gentlemen also have a beloved oatmeal stout (Mexican Coffee), but I'm even fonder of Mr. Automatic, a bitter and boozy porter that will make you rethink porters. And Sharpsburg's Dancing Gnome, one of the newest breweries on the scene, boasts Wonka, a dry stout that bursts with notes of (what else?) chocolate.
Those few recommendations barely dip a toe into the dark side of Pittsburgh brewing. This holiday season, go out and find a favorite of your own.