For 11 years, artist-educators Frances Crisafio and Meda Rago have run Faces: A Children's Art Collaboration, teaching self-portraiture to second- through fifth-graders at two public schools in Manchester. For certain students, depicting themselves through drawing and collage is hard. "You have some kids who are so unhappy with themselves that whatever they glue down on that paper, they rip it off," says Crisafio.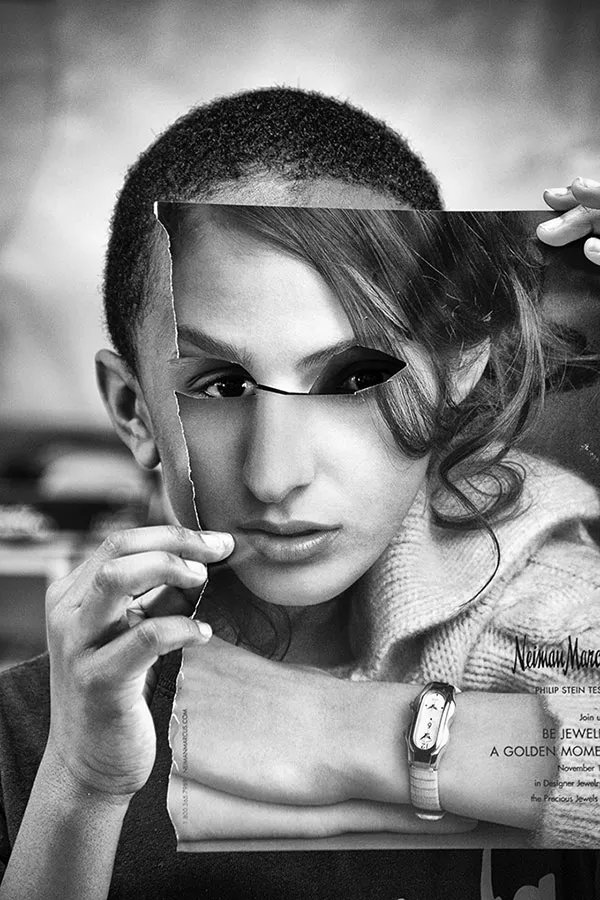 But the results can be extraordinary. HOLDUP in the HOOD, an exhibit at 707 Penn, includes 45 of Crisafio's photos of participating students, all of whom are African-American, holding their self-portraits between their faces and the camera. The images, dating to 2007, have been exhibited in cities from Portland to Chicago, and won awards in Paris. The 707 show is their biggest local exposure yet.
Half the portraits are simple pencil drawings on posterboard, typically guileless, wide-eyed and affecting. Most of the other photos capture collages, comprised of glossy magazine images.
One is a portrait in food, with a roasted-chicken face. Another is a near-cubist intersection of two faces. Yet another sports a mouth of manicured toes, the face a jumble of scraps. One boy has a cathedral-steps face, steering-wheel and car-tire eyes, and a snarling-wolf ear. Another collage is mostly a photo portrait of a bearded white guy, wearing camouflage and a cap reading "White Trash" and sitting in what looks like his bunker. One kid added a spiffy bow tie to a zebra-striped face. There's much material from car and jewelry ads. One girl's collage has a sleeveless dress for a nose and a body of perfume bottles and fashion accessories.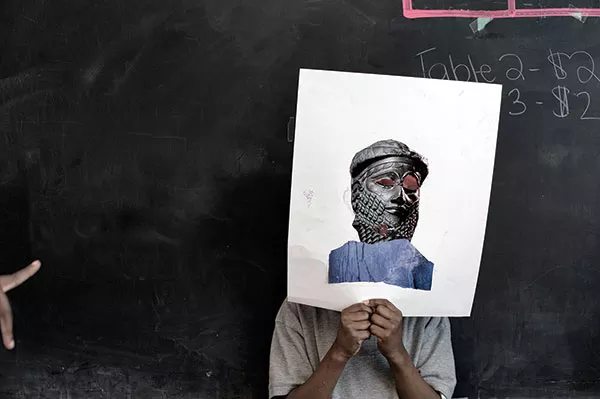 Some collages are partial collaborations between a student and him or Rago, acknowledges Crisafio, a designer and photographer. Among the most striking photos, in fact, are larger prints not of completed collages, but of kids wearing "masks" — a boy donning owl's eyes, for instance, another boy masked by a female model from a Neiman-Marcus ad.
Viewer interpretations will vary; within the Faces program (funded by the Society of St. Vincent De Paul), what counts is process: "Getting [students] to look at the way they are and accept that and be happy with that," says Crisafio.
"It's uncanny how much the final images — even though their faces are covered — look like the kid," he adds.