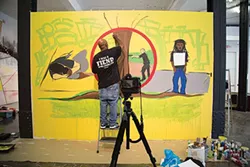 On the night of July 10, at the Pittsburgh Cultural Trust Gallery Crawl, local artists came to SPACE to make a series of paintings directly on the Downtown gallery's walls. Curious crowds sipped wine and watched as artists busily brought their creations to life.
The novelty of Wall Paintings, curated by Robert Raczka, was the chance to see the artists live. To see the show any other day is underwhelming, but the exhibit does have its highlights.
Pittsburgh police officer and artist Alphonso Sloan steals the show. His blockish, cartoon-like characters and bright colors mimic graffiti art, but the art is simply a means to an end. White police officers tackle black teenagers and point guns at their heads. Even nature cries out: The roots of a tree form the words "I Can't Breathe." Sloan paints a dedication to police-brutality victim Eric Garner; at right, a man stands in silent protest, a "Black Lives Matter" sign around his neck.
Melissa Kuntz is a true talent, combining 2-D geometric painting with hanging plush toys and model cars to create a playful mountain scene. Pat Bellan-Gillen will blow you away with a fantastic mural of a girl covered in paper flowers; and Ramon Riley creates the enchanting "LoveLocks," which shows heart-shaped locks on a bridge inspired by real-life tourism attractions from around the world.
The childlike whimsy of these works alone is worth a trip to SPACE, even if they do seem insubstantial when faced with the gravity of Sloan or the art of Derek Reese, whose "Condishened" — a conglomeration of paper plates, fridge magnets and a city abstraction in crayon — appears to be a powerful commentary on gentrification.
Other works are out of place in the exhibit. For example, "Crawler," by Michael Pisano, is disappointing. A mural of a satanic figure atop a stone structure rising from a swamp is not only disjointed from the exhibit, but looks like a sketch compared to his own earlier works.
Contrast between the ugly and the beautiful, the fantastical and the all-too-real in Wall Paintings is difficult to swallow at times. But that is a good thing. Perhaps it will shake a complacent audience in search of aesthetic pleasure into actually thinking about the art.