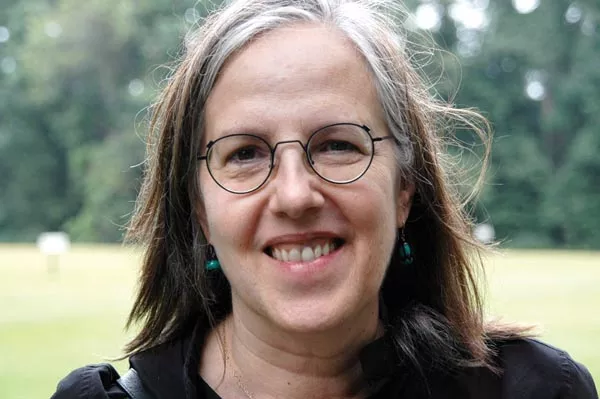 Water indeed courses through The Water Books, local poet Judith Vollmer's fine fourth collection of poetry. It appears as rain, ocean and the contents of garden bucket; as dinner beverage, secret mystic aquifer, Monongahela River water. In one poem, Vollmer impressionistically traces the course of the Youghiogheny River; in another, she ponders the non-water of rock crystals, "the ice that never melts." In "The Bowl," the narrator discovers in a stream bed a tiny bowl of ice, which she imagines as "the lens I might lift to read the water books."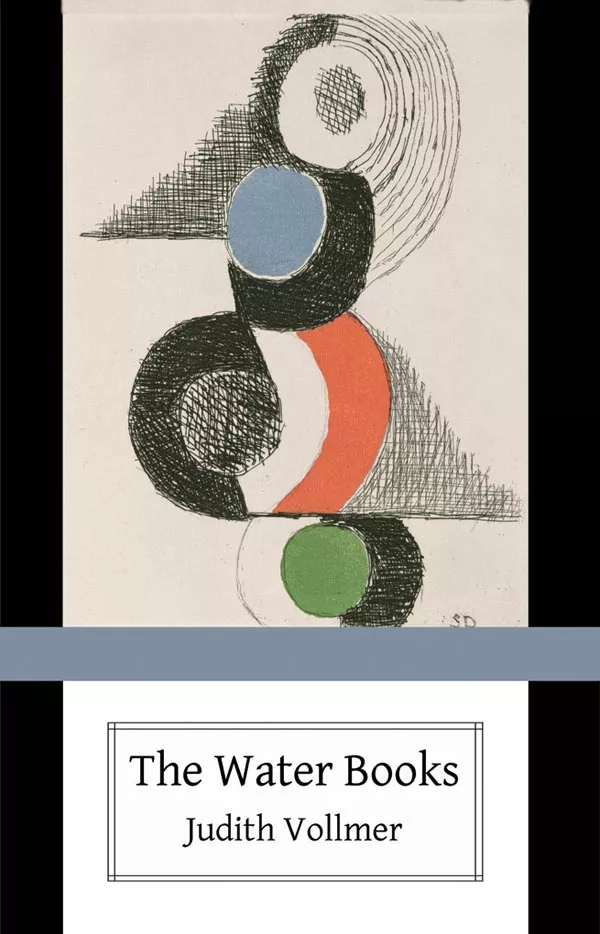 These are not "nature poems" in the strict sense -- the natural world is always explored alongside human culture and private emotions -- but many of them take place at the level water seeks. Most are never far from the soil. The narrator of "Cleaning the Alley," for instance, is on hands and knees behind her house, sketching a scene as she works: "I pull weeds knowing / labor I was intended for."
Although the book's 38 poems are rich and varied, some feel emblematic, keynoters. "The Water Carriers," for instance, follows the narrator, who mostly appears as a young girl, as she follows her father through a rural landscape whose salient feature is that mysterious and bountiful aquifer. 
--Father
opens a scratched sheet of aluminum door,
a slab of earth lifts to me,
I am eating it through my skin:
light-beam points down & in:
down to the layers, grass, dirt, rocks, cinder, clay,
down to the round gray eye of old water,
needled down
through the cold mineral vaults,
old water refreshing itself ...

The excerpt captures Vollmer's intense use of figurative language ("eating it through my skin"), her dreamlike narrative style and her propensity to never wander too far from a ground-level view. Often, in fact, she exhibits a gopher's sense of place. In "Field Near Rzeszow," for instance, she imagines living on her family's Old World tract, where she would "Go into the woods / get the black dirt / for the flower pots."
This mission to reanimate -- or at least reclaim -- something irrevocably past pervades The Water Books. In one poem, Vollmer mourns filmmaker Pier Paolo Pasolini for the personal risks that cost him his life. "A Reckoning," a scathing take on a "canned" pheasant shoot in Ligonier by Republican bigwigs including Dick Cheney, concludes with the image of the doomed birds in "beautiful brief flight." And the impulse manifests as sort of collective regret made personal in "On the Tarmac at Dover Air Force Base, 2006," where the narrator (in a blurring rain) watches war casualties be unloaded under a press ban: "The dead soften inside the coffins / under the medals & censored grief."
The poems in Water Books range wide in both content and form. "Trees at Night" is a closely observed meditation on urban trees in a storm. There are wryly witty shorter poems, like "Georges de Beauvoir Breaks His Silence" and "Money Comes From Four Places." "My Orange" uses the instance of peeling a fruit to blur the line between flesh and metaphor. There are a couple short, more experimental pieces, like "A Pittsburgh Novel." Vollmer, who teaches at the University of Pittsburgh at Greensburg and at Drew University, even offers translations of three short verses by 19th-century Italian poets Giovanni Pascoli and Giacomo Leopardi.
Certain works in this collection feel a little too stream-of-consciousness, the occasional reference especially obscure; it admittedly took me a few reads to grasp the sense of more than a couple of these poems.
Yet at its best, Water Books is both lyrically engaging and intellectually stimulating. Take "Camping on the Hudson," in which passages wonderfully describing the confluence of nature and settlement ("Spring is rinsing the old rail towns / and floating barges clean as wet onyx") meld seamlessly with echoes of Henry Hudson's frightening first pass through the valley: "Ships came up through the Narrows / and busted their hulls on the jagged edges."
And ironically, at least one keeper in The Water Books is a poem that has little to do with H2O. "The Silver Tray" recounts a blue jay's funeral from the narrator's childhood, fusing delicate humor and reverie into a moving meditation on fleeting mortality that ends with a simple but devastating twist. Yet life, like water, plainly runs on.
Trees at Night
Until the storm arrives from Chicago they will rock or sway
their uppermost stick-bundles & leaf-crowns, buffet the jay fledglings in their straw & twine-bit
nest, then settle them back down, then take a quick breather or two until they restart the tipping & the rustling
whose sound if properly recorded would be soft as dust under the nets of lightly scattered star-cover
Their graceful fans lave the pavement & sift astringents onto the strata of fryer grease & bar smoke, sewer acid,
gathering, anointing themselves, flexible leaf-skins pliable stems vined chlorophyll channels processing rain mist fog snow,
ghosts & sound-memories of hail pellets & wind squalls Branches work their genius of variation, no dip or arc repeating any other
no particle of reflection too small to miss the dance upon railings & bumpers, eyeglasses & bottle shards, lamp-steel, mailbox
handle, & human eye-white all under the spell of the late October New Moon.
From
The Water Books
, copyright 2011 by Judith Vollmer. Reprinted by permission of Autumn House Press.