The 2016 Solo & Collaborative Exhibits at Pittsburgh Center for the Arts is a vibrant and varied program, at times almost explosively so.
In fact, you might think it's an explosion greeting you in the first gallery off the lobby. Patrick Schmidt's room-sized "Drawing in Balance" is a rendering in multicolored tape: Across three walls, the ceiling and even the floor are plastered with stylized outlines of human forms, suggesting Keith Haring figures gone geometric and run amuck. The figures are in yellow, orange, pink and more; they're underlaid by a honeycomb-like grid. Schmidt's artist statement says the work addresses a digital world where "everything happens at once." I don't know I'd have gotten that without the prompt, but "Drawing in Balance" definitely grabs your attention. It also establishes a middle ground for these 10 exhibits by local artists, curated by Laura Domencic. Some of them feel like aesthetic play while others seem more explicit personal expression.
In the former category is "Dialogue Through Drawing," collaborative works by Katie Rearick and Rachel Saul. Their graphite-on-paper "Conversation Sketch" is heavy on geometric abstracts but has a real lightness to it; three "Sculptural Prints" combining Saul's monotypes with Rearick's steel forms are agreeable, if not especially challenging. Elsewhere, in a darkened room, Robert Howsare's "disruptor" projects flickering light upon a wall that, like the small boxlike objects leaned against it, is wrapped in paper that's partly reflective, partly colored, creating a videolike effect; the idea is to explore moire patterns (which our eye mistakes for movement). And John Tronsor's "untitled (with deleuze and serres)" is a witty play on funhouse mirrors.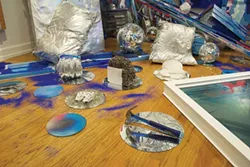 Tronsor's piece might have existential relevance for those so inclined — or you might just get a kick out of it. But there's no missing the emotions in "Kinesics," Scott Hunter's roomful of 12 abstract paintings, all oil and/or acrylic on canvas. Six are large, six extra-large, and Hunter earns that scale with broad strokes, big gestures and slashes. Viewed clockwise, the paintings roughly progress from light to dark, airy to dense, like spring to summer, yellows and pinks gradually offset or displaced by deep blues. Collage elements including old-school girlie-mag photos seem anomalous until you read that Hunter's theme is body language. "Rosa" yields an especially passionate combination of colors, while "Briar" is a twilight image that suggests a human figure, bent backward to view the sky, one arm raised to a soft yellow light above, mysterious.
"Where is the Sky?" is, by coincidence, Sarika Goulatia's adjacent installation. It's a room packed with stuff in shades of blue, silver and white, and with mirrors, from the reflective paper covering the ceiling to the wooden boards leaning on the wall and the discs on the floor, painted to resemble sky. There's a pin cushion, metallic pillows, shattered window, a pendant antique bird cage with its bottom removed and the bird clinging to the exterior. You needn't know that Goulatia is exploring her near-death experience after an allergic reaction to a prescription drug to understand what she's communicating: coldness, pain and alienation combined with the mandatory narcissism of a thousand mirrors.
For relief, see Nicole Crock's "Dream House," a roomful of "clouds" — polyhedrons hand-made from white cardstock — nine of which bear houses made from the same material. It's Magritte-ish, melancholy yet hopeful. Anna Boyle's lovely "Submerged" uses topo maps and watercolors, for starters, to explore the Western landscape; a touchstone is Lake Powell, the huge reservoir on the Colorado River. "Submerged" is most telling if you know the history of beautiful wildlands drowned by dam projects over the decades.
Elise Wells' "Manhours" also interrogates humans in nature. The rusting hood of an International Harvester truck dominates; on the periphery, life-sized paper cutouts of women pull a hunting net and douse a pile of coal with sand. The lone image of a human male is obscured, as though present only in memory; the installation's most memorable juxtaposition might be a battered Carhartt jacket and a coyote skin, hung on the wall side by side.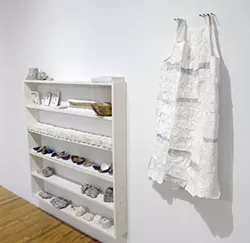 Perhaps the most ethereal of these exhibits is Dafna Rehavia's "Footsteps in the Sand," like a surrealist boutique where nothing/everything is for sale. An old wooden chair cocooned in string hangs from ceiling, its shadow cast on the wall. Tiny books occupy a shelf; a rusty model-railroad track wrapped in yarn runs up the wall and across the ceiling. There are two sandboxes, one with a bench you wouldn't want to sit on, on account of the nails sticking up, and despite the three pairs of gold-painted shoes tucked underneath. Incorporated text warns of the "The Trapp of Dualism." So many elements are, like the chair, netted, in string or thread. Lots of white wall. The artifacts are all worn and faded, suggestive of former colors and heavy use, like objects of devotion we can neither surrender nor save.