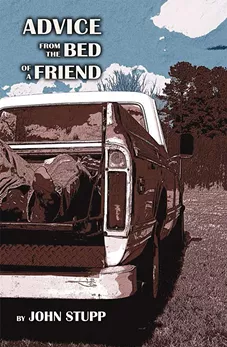 Although there are vacations and many innings of Pirates baseball still to be had, summer's dog days can feel overlooked or transitional as the run-up to the school year begins. But in the final poem of his debut full-length collection, Advice From the Bed of a Friend (Main Street Rag, $14), local poet John Stupp asks anyone ready to concede the season to reconsider.
"In an August That Is Forgotten Already," Stupp writes: "Who cannot be inspired by endless blue waves / the horizon breaking as far as the eye can see — / wave-tops shattering beneath an undying sun / on the hottest afternoon / in an August already forgotten." The poem continues in this vein, using repetition of the phrase "blue waves" to emphasize the powerful contemplation that often goes along with nearness to the ocean. These natural settings and the descriptions that follow play an important role in his work.
For Stupp, a jazz musician, Ohio native and resident of Sewickley, both local and global travel seem linchpins for inspiration. And with poems set in Idaho, Vancouver, Mexico and Pittsburgh's South Side, among other places, imagery gives a foundation and clarity to his lines. The small moments count for something less fleeting than mere impressions.
A good example is "Idaho Winter": "Near a junkyard / on the Payette / trout are swimming / down a rusty spillway / banging their fins / on the metal surface / of magnetic north." Often in these 89 pages, the natural and civilized worlds overlap, and it makes for an interesting contrast that Stupp successfully employs throughout, with many poems taking place in or near bodies of water. In fact, much of the final section of the book centers on an emotionally moving visit to Mexico's Pacific coast, highlighted in the poems "Lluvia Azul," "Blue Pacific" and "Flash Flood."
While few poems touch on Stupp's musical experiences, several baseball-focused ones seem timely with the Buccos contending. A favorite, the forgiving "What Ralph Terry Said," concerns Game 7 of the legendary 1960 World Series, and the aftermath for the losing pitcher of that upset. Stupp writes: "If he'd live to be a thousand / he'd never escape / the prop wash / from Mazeroski's drive — / a churning wake / blown like a nail through his heart …" It's another powerful image powering Advice toward solid achievement.