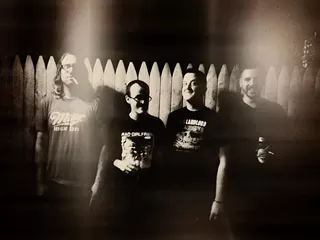 Friday night at Howlers will mark an arrival, a reunion and a departure for the bands taking the stage at the Bloomfield bar.
"It's gonna be a party. Old school, new school, all at the same time," says Dan DeLucia, guitarist in local melodic hardcore outfit Remainders. "It's like a big family reunion almost."
While Remainders and Barons (which features members of Voices in the Wire, American Armada and Grand Piano) will be releasing a split, Pittsburgh punk legends Teddy DuChamp's Army will reunite and World's Scariest Police Chases will play its last Pittsburgh show.
"It's definitely a very intertwined community with the crew of dudes that are involved," says Barons guitarist Mike Rock. "It's gonna be a night of old friends playing music together, you know?"
Rock, like several others, will be playing two sets, and is right in the thick of that community. He started Teddy DuChamp's Army in the late '90s and his brother, Dan Rock, is one of the vocalists in World's Scariest Police Chases, which DeLucia is also in.
Remainders and Barons played their first show together in June, and started planning the split 7-inch soon after.
"With this band now, and I think Remainders is in a pretty similar situation ... it's just like, 'Let's just play music for fun and whatever happens, happens,'" says Rock. "We're just gonna do it on our own terms."
Friday's show was originally booked as a release show for Barons' 7-inch. But with the records in early and Rock not wanting to wait, they played a release show last month. Both of the brothers Rock are heading to The FEST in Gainesville, Fla., and wanted to play a show together before that.
With Pittsburgh placed in between major scenes, DeLucia thinks both bands take influence from across the country.
"It's not really Midwest, it's not really East Coast. It doesn't really fit into either of those big scenes," says DeLucia. "I feel like we're trying to meld that together, and both bands are going in a little different direction but both staying in that same genre."