It wouldn't be a Pittsburgh wedding without a cookie table. But why keep the tradition exclusive to happy couples? In the spirit of the season,
Pittsburgh City Paper
is celebrating the holiday cookie table. We're reviewing bakery favorites, family recipes, and grocery store staples until the table is full.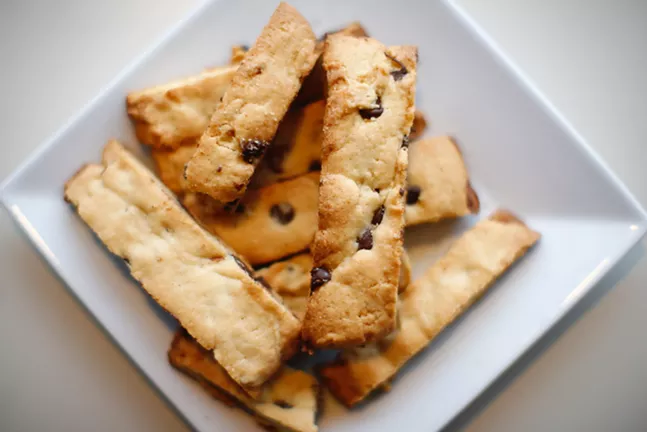 Holiday cookies are generally a tradition exclusive to Christmas. The term brings to mind gingerbread men, red and green sugar cookies, and the ugly sweater cookie kit I saw at Aldi. Even a gingerbread house is technically one big cookie. When it comes to Hanukkah, there aren't really any cookies specific to the holiday.
But there are plenty of Jewish cookies that you can bake in December and call a holiday cookie, like mandel bread, which is definitely a cookie and not a bread at all. The original name for the cookie is
mandelbrot
, a Yiddish word meaning "almond bread" (I did not know this until I Googled it — I didn't even remember the cookies having almonds). They were often in my house growing up, even though my parents didn't make them, because a family friend would bake them in large batches and then give us a large Ziploc bag full of them. I texted my mom for the recipe and, even though she said she was at the hair salon, I got a picture of a piece of paper with the recipe on it 10 minutes later.
The long cookie is very similar to biscotti, in that it's baked in a loaf shape, cut into slices, and baked again. I'm not a cookie expert, but the biggest difference between the two cookies seems to be that mandel bread contains much more oil (or butter) and is therefore softer. When I think of biting into a plain biscotti, I think of chipping my tooth, which I have never done but seems very possible.
The recipe can be used as a base to add in whatever combination of nuts, chocolate, fruit, etc. you have, but I went with a classic almond and chocolate. The recipe is definitely easier if you have a stand mixer or even an electric hand mixer. But if, like me, you have neither, definitely use a very large bowl. I used a medium-sized bowl and it was difficult to mix together the flour with the wet ingredients.
The recipe also requires making two loaves on a cookie sheet, but if you only have small sheet pans because you have a small oven (like me), I recommend doing it in two batches so the loaves don't run together (this did not happen to me, but it almost did). Cooking time depends on how soft or crunchy you prefer the cookie to be; I cooked mine for the maximum recommended time, so they came out slightly crumblier and browner than I prefer. If you like a softer texture, closer to a cookie than a biscotti, cook for less time.

Ingredients:
3 eggs
1 ½ cups of sugar
1 ¼ cups canola oil
2 teaspoon vanilla
½ cup almonds (or other nuts)
½ cup chocolate chips
1 tbsp baking powder
4 ¾ cups flour
Recipe:
1. Beat eggs, then add sugar and beat again.
2. Add oil, vanilla, and nuts.
3. Add flour and baking powder (sift those things first if that's something you understand how to do.)
4. Shape dough into long rows, about 3-inch wide and 1-inch high on ungreased cookie sheet.
5. Bake at 350 for 20-25 minutes (depending on crunchy preference).
6. Remove pan from oven and cut into slices (about 1-2 inches wide). Separate them so they have room to breathe.
7. Bake again for 15-20 minutes.