In the final month before the Nov. 3 special election to fill the 37th District State Senate seat, Democratic candidate Heather Arnet has been door-knocking in Bridgeville. She's also appeared before the Operating Engineers State Council conference and visited a microbrewery in Mount Lebanon.
Her opponent, Republican candidate Guy Reschenthaler, has been spotted at the Firearm Owners Against Crime gun bash; has posed for a picture with presidential candidate Marco Rubio; and has met with the Pitt College Republicans.
There will be just one debate, held on Oct. 28 at Robert Morris University, less than a week before the election to fill the vacancy that occurred when former Democratic state Sen. Matt Smith resigned earlier this year to lead the Greater Pittsburgh Chamber of Commerce.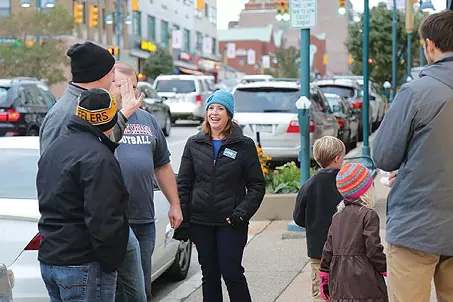 So voters who miss the debate, or don't happen to meet one of the candidates on the campaign trail, will be forced to rely on television commercials and campaign mailers, all of which cost money. And while an accurate accounting of the candidates' campaign spending won't be available until Oct. 23, when the first finance report is due, Arnet says she's been outmatched as a fundraiser.
"I think this is a story about money in politics," Arnet says. "My opponent is heavily financed by the Republican state committee. To anyone who's even paying mild attention to this race, the difference in money should be very clear."
Since Aug. 1, Reschenthaler's campaign has sent out nine mail pieces (some of which were 8-by-11 format with full color on both sides).
He's also maintained a steady television presence, in a market where a commercial can range from $3,500 during prime time spot to $15,000 for an advertisement during a Steeler game. Records from the Federal Trade Commission show Reschenthaler's campaign has purchased more than $150,000 in local TV commercials since August.
Reschenthaler's campaign did not respond to multiple requests for an interview with City Paper for this story, but the candidate did respond to a question asking about Arnet's claims about his campaign spending and contributions.
"These are completely baseless accusations from a desperate campaign failing to gain traction in this district because of the extreme liberal views and radical tax-and-spend policies they champion," Reschenthaler said via email.
But in the face of what Arnet sees as an election heavily influenced by Reshenthaler's donors, she's asking voters not to rely on what they see on TV and in their mailboxes. Instead, she's asking that they look at her opponent's track record.
For the past 12 years, Arnet has served as the CEO of the Women and Girls Foundation, a nonpartisan, nonprofit organization that advocates on behalf of women and girls of all ages.
"In that role, a significant part of my job is to advocate for legislation at the city, county and state level, mainly in support of different social-justice and economic-justice issues," Arnet says. "Most recently, those have included things like paid family leave, paid sick leave, efforts to increase the minimum wage, continued efforts around ensuring low-income individuals have access to safe and affordable housing, health care."
It's this experience working with state representatives on both sides of the aisle to pass legislation that Arnet says has prepared her to make a difference in the senate.
"We've worked very closely with the Republican leadership," Arnet says. "Our mission is to support women and girls. It's not a partisan organization. We've built a reputation of being a coalition builder and bringing to the table people that maybe don't agree on everything."
In a continuation of her professional career, Arnet says she will be a strong proponent for workers' rights and other economic issues. She says economic stability is a cornerstone of concern for constituents in her district, be they two-parent families or elderly women who have outlived their partners.
"As a state legislator, I will continue to be an advocate for increasing the minimum wage," Arnet says. "Women make up 75 percent of minimum-wage workers and, probably not accidentally … 75 percent of households living in poverty in Pittsburgh are single-women-headed households. It's not that I'm looking … only at what's good for women and girls, but my interest is in hoping to eliminate poverty."
Arnet has also served on an advisory board for a 32-county strategic-planning process. Through this experience, she learned about municipal challenges like stormwater management, land-use planning, transportation issues, highway infrastructure and environmental-impact regulations.
"What people mainly care about are their families and their general, everyday quality of life. They care about their jobs, about living wages, about retirement security, and they care about having good schools for their kids to go to," says Arnet. "I think those are core values I share. Those are not Republican or Democratic values. They're family values."
Arnet has been endorsed by a number of workers' unions, including the local Service Employees International Union and Pennsylvania AFL-CIO. But she says workers' rights are also a personal issue for her.
"When I was little, we lived on food stamps until my parents both found union jobs," says Arnet. "They provided our families with economic security and health care. My mom had paid sick leave, and as a single mom that mattered. So these are not abstract issues to me. I've seen why it's important for workers to have the ability to negotiate and to demand good working conditions and livable wages that you can raise a family on."
Since Reschenthaler did not agree to an interview, City Paper turned to his supporters and to publicly available information about the candidate.
"Guy is not your grandfather's crusty Republican," says Ben Gross, a member of the Allegheny County Republican Party and one of Reschenthaler's supporters. "What I like about him, is he has a libertarian bent to things." Gross says Reschenthaler, like most Republicans, is against major tax increases, but "Guy is also someone who sees problems with poverty and mass incarceration."
According to his campaign website, Reschenthaler is a former district magistrate who has also worked in private practice. He also served in the military as a navy prosecutor.
"He's a bright young man, a hard-working man with service to his country," says Dave Majernick, vice chairman of the Allegheny County Republican Committee. "The committee members felt he had the best chance to win."
Reschenthaler's campaign website does not include information on where the candidate stands on the issues facing constituents in the 37th District. (Information on where he stands on pension reform, education and the environment were emailed to City Paper and can be found in our election chart.
But City Paper did listen to segments of a 2013 talk show that Reschenthaler hosted called The Sound of Freedom, a conservative podcast where the candidate and his co-host, Carl Higbie, discussed topics like taxes, immigration and gun control.
"I laughed out loud in the section of your book when you talk about having to sit next to fat people on the plane," Reschenthaler says of a book written by his co-host.
In a segment about gun control, Reschenthaler says, "The Grundy school shooting shows us two things. That one is the fact that, just what you were saying, the way to stop a bad guy with a gun is to have a good guy with a gun."
Clips of the show were released last week on the website guyreschenthalerpa.com, which was paid for by Arnet's campaign.
"That's his own voice. It's his own words. It's not edited or split. This is a direct audio clip from his radio show," says Arnet. "And I think that's what made [Reschenthaler's campaign] so upset, is they realized that now people will start to learn about who this guy really is. They've been spending a lot of money trying to create a new identity for him. This speaks to his values and his beliefs, so it's absolutely relevant and we're not making it up."
"It is very sad to see a campaign sink so low and make such outrageous accusations," Reschenthaler said via email about criticism of the talk show.
But the more shocking statements made on the show come from Reschenthaler's co-host. Higbie, who has campaigned for the candidate in the past.
"I think, stick a fence six feet high with signs on it in both English and Spanish [that] says, 'You cross this border — this is the American border, you cross it, we're going to shoot you,'" Higbie says in a segment on immigration. "You cross my border, I will shoot you in the face."
In another segment Higbie says, "The black race is lazier than the white race."
The views expressed on the show, Arnet says, are in sharp contrast to her efforts for equality and women's rights. For example, she highlighted her work in 2013 with Sara Pesi, a college student who was stalked at 13. Arnet worked with Pesi to pass anti-stalking legislation.
"Voters should really look at our track records. In 2013, Guy was hosting this radio show, and in 2013, I was working with Sara to pass her bill," says Arnet. "I've spent my career working to fight against racism and sexism and social injustice and mockery of the poor. And there is this person running for the legislature who hosted a radio show where he and his co-host continually said things that are racist and sexist and demeaning to people who are low-income. I think voters have a right to know that before they cast their ballots."