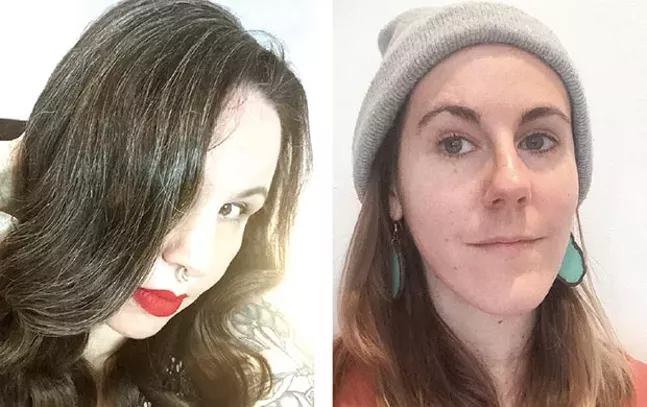 On April 11, President Donald Trump signed into law a measure that its supporters say is necessary to combat human trafficking. The bill is a combination of two measures — the Stop Enabling Sex Traffickers Act and the Fight Online Sex Trafficking Act (SESTA-FOSTA) — and was passed following two years of bipartisan advocacy.
And while the goal to end sex trafficking is a much needed and noble one, sex workers and their advocates say the new law will make consensual-sex work more dangerous and obscure the online activities of sex traffickers, making them more difficult to find and prosecute.
The Department of Justice defines sex trafficking as when "a commercial sex act is induced by force, fraud, or coercion, or in which the person induced to perform such act has not attained 18 years of age." SESTA-FOSTA targets online platforms and makes them liable for what their users post, say and do on their forums by revising the Communications Decency Act, a law that previously protected websites from being liable in civil court for their users' actions on their platforms.
In an increasingly conservative political climate, Jessie Sage, Moriah Ella Mason and PJ Sage are offering support and safe harbor for sex workers. They recently launched a Pittsburgh chapter of the Sex Workers Outreach Project (SWOP), a national network that works to protect the human rights of those involved in the sex industry and focuses on replacing the stigma and violence with education and advocacy.
According to the Sages, Mason and many activists, the law will force sex traffickers offline, making their activities harder for law enforcement to track. In addition, this also stands to affect the livelihood of consensual-sex workers and their ability to work safely.
"When these platforms shut down, traffickers aren't going to stop, they're going to make the girls work on the streets, more dangerously and [they] will be harder to find," says Mason. "For consensual sex workers, it also becomes more dangerous for them because they can't work online either."
Mason is an interdisciplinary artist, massage therapist and educator. She's also a former stripper and recently performed two runs of her one-woman show, Sex Werque, commissioned by Off the Wall Productions, that explores her experience in the adult entertainment industry. Jessie Sage was an academic getting her Ph.D. in feminist philosophy and teaching women and gender studies when, four years in, she became frustrated with academia and left to work as a doula. Her husband, PJ Sage is studying web camming and sex camming — a legal form of sex work where clients pay for live webcam time and interactions with a model — as part of his Ph.D. work in sociology. Out of curiosity, Jessie Sage decided to make a profile to see what the work was like.
"That was maybe a year ago and that really took off, surprisingly," she says laughing. "It's not where I expected to land," she says of her career as a phone sex operator and webcam model, also known as a "cam girl."
The Sages and Mason met at a performance of Sex Werque and found that they were aligned in their passion to build solidarity and promote agency and justice among and for sex workers. Because all three of them are "out" publicly about their sex work, it seemed natural to take on this responsibility.
"We feel really strongly about speaking out about these two bills that have just passed, particularly because as a former sex worker and someone doing legal sex work, we don't face the same challenges or risks by speaking up that a lot of our peers do who are working in prostitution or escorting and who are much more affected by these bills," says Mason.
Even before SESTA-FOSTA was signed, sex workers and internet users were seeing the limits it could put on free speech as it moved through the Senate. In March, Microsoft banned nudity and swearing on Skype effective May 1; on April 6, the FBI seized Backpage.com, where many sex workers advertised their services and shared information.
"Google is heavily censoring and flagging anything that seems like adult content. Sex workers [like cammers] are having their pre-recorded content disappearing from Google Drive. When they go to send it to clients who have paid, it's gone," says Sage. "There's no way to really recover it."
Sen. Pat Toomey (R-Pa.) tweeted his support of the signing, while those in the sex industry, like nationally syndicated sex-columnist Dan Savage are expressing their disappointment in what they think is a harmful bill.
Kink and dating sites like FetLife are consulting with users on how best to proceed. Pounced.org, a dating site for Furries — people who like to dress up in animal suits and assume anthropomorphized animal personalities — shut down for fear of prosecution. In their statement they wrote, "We don't promote prostitution or sex trafficking. We're a personals site for the furry community, our goal was to allow members of our community to have a personals site dedicated solely to the community, and we've tried to serve our community well."
For more information on SWOP, visit www.new.swopusa.org.