Jean-Marc Chatellier's French Bakery
213 North Ave., Millvale. jeanmarcchatellier.com
After 30 years of serving French delicacies to the public, Jean-Marc Chatellier is looking to sell his bakery. With everything from classic macarons to chocolate mousse, the bakery has been a staple in Millvale. Chatellier
told TribLive
that he is looking to sell to someone with more than just basic baking skills to keep the legacy alive.
Onion Maiden
639 E. Warrington Ave., Allentown. onionmaidenpgh.com
On Sun., June 26 from 12-9 p.m., the
Ramen Demon returns to Onion Maiden
for a noodle pop-up kitchen event. What is the Ramen Demon? You'll have to wait to find out. Available for dine-in and take-out, so you can enjoy it wherever you wish.
Summer Pig-nic
956 5th Ave., New Kensington. voodoobrewery.com
You'll be in hog heaven when
Pigsburgh Squealers
and friends host the Summer Pig-nic on July 31 from 12-4 p.m. at Voodoo Brewing Co. Pet a number of foster pigs and enjoy all vegan food by Veggies N'At and Sweet Alchemy Bakeshop. There will also be lawn games and a DJ. Buy tickets at the
Sweet Alchemy website
.
Page's Dairy Mart
4112 E. Carson St., South Side. pagedairymart.net
Great news for those of us who don't eat dairy: Page's Dairy Mart now carries a vanilla oat milk soft serve that is vegan and dairy-free. Enjoy a cup or cone on your next visit.


Field Day x Trace Brewing
3706 Butler St., Bloomfield. tracebloomfield.com
Every Friday from 5-9 p.m., Trace Brewing will appear at Field Day's weekly biergarten pop-up. The event promise fresh pours from Trace and snacks from the café. Admission is $5.
Lasko's Little O's
540 Seventh St., New Kensington. facebook.com/LaskOslittleos
This shop, which opened in May, allows you to customize your donut. Choose from a variety of glazes, drizzles, and other toppings.
Stunt Pig
340 Freeport Road, Blawnox. oldthunderbrewing.com
On Sat., June 25 from 12-8 p.m., celebrate Stunt Pig's first anniversary at Old Thunder Brewing.
The food truck
specializes in smoked meat sandwiches and sides and will serve its menu along with drinks by Old Thunder.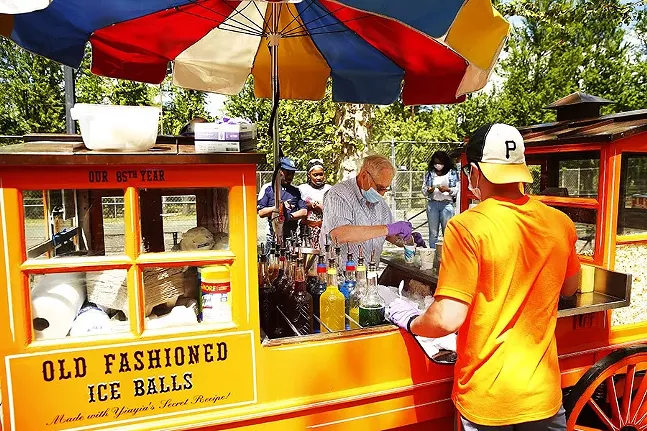 Gus and Yiayia's
638 W. Ohio St., North Side.
The locally famous Gus & Yiayia's ice ball cart is open for the season, so get your summer treats while you still can.


Hidden Harbor

1708 Shady Ave., Squirrel Hill. hiddenharborpgh.com

Hidden Harbor announced that, on Tue., June 28, it will launch its latest Tiki Time Machine menu, titled Tiki Roadtrip US. According to an Instagram post, it's the bar's "biggest and most ambitious one to date," featuring 15 modern tropical cocktails.
PrimoHoagies
1901 Smallman St., Strip District. primohoagies.com

Another sandwich place has come to Pittsburgh, and this time it hails from Philly. PrimoHoagies opened a new store in the Strip District Terminal building, bringing with it new lunch and dinner options. A press release says the menu features a wide variety of cold and hot hoagies, cheesesteaks, wraps, vegetarian options, sides, and more. They also offer catering.