click to enlarge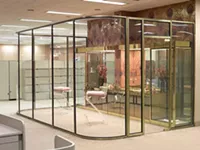 David Hartt's Stray Light is an ode not only to a building, but to an era. His installation work resonates so profoundly with me that I hope you'll forgive a moment of nostalgia for the city of my youth.
Chicago in the 1970s was quite a different place than it is now. At evening rush hour in the Loop, hordes of office workers, in their standard beige overcoats, would stream across the bridges to commuter trains bound for the predominantly white suburbs. Downtown would be deserted save for the few restaurants that catered to those headed to an evening concert or performance. Race, ethnicity and class rather strictly demarcated the rest of the city's neighborhoods.
My family lived on the South Side, in one of the few integrated neighborhoods. When we ventured north for the evening, I would relish the return trip along Lake Shore Drive, from which you could see the magnificent skyline with its twinkling lights. It was easy to recognize the buildings along Michigan Avenue by their distinctive marquees. And while the understated brown sign atop the Johnson Publishing Company headquarters was not neon or flashy, its formidable elegance was palpable. You always knew it was there, its very presence speaking volumes about the country's shifting cultural and political terrain.
Hartt is from Canada and now lives in Chicago. Through his video installation, you sense that he too has an emotional connection to the era and to the Johnson building, a particularly powerful testament to time, place and race. Designed by John Moutoussamy, the building complemented the other modernist showcases around the city, which was home to visionaries like Mies van der Rohe.
As publisher of Ebony and Jet magazines, John H. Johnson and his wife, Eunice Walker Johnson, built a media and cosmetics empire focused on African-American lifestyles. In 1971, the newly constructed Johnson Publishing headquarters opened on Michigan Avenue, the first major building in downtown Chicago designed by an African-American architect. While the exterior was minimal and understated, the interior reflected the era's aesthetics — bold, colorful, expressive and, in this case, distinctly Afrocentric.
Unaltered since, the interiors are clearly midcentury. Designed by Arthur Elrod, each floor and private office had a different character. With a flair and style that combined pattern and texture with contemporary furnishings and unique designs, the spaces were hip and avant-garde, presenting a new twist on the modernist canon.
Stray Light is not simply a portrait. Hartt presents the building's interiors with a moving and reverent eye, and a sense of awe, nostalgia and wonder. Rarely seen by outsiders, the offices were made available to Hartt by Linda Johnson Rice, now chairman of her parents' company. Thanks to Michael Darling, of the Museum of Contemporary Art, Chicago, Hartt was permitted to investigate the inner workings of the building and the company, as both a cultural icon and a seminal African-American business.
Many of Hartt's previous works have examined how the built environment reflects particular ideologies. He has explored urban farming, hippie communes and company towns through photography. For Stray Light, he used film for the first time to create an installation. The 12-minute film, accompanied by a musical score by Nicole Mitchell, allowed Hartt to present a real-time, nuanced and emotional narrative. The film, still images, sculptural components and a replicated carpet combine to momentarily transport the viewer into the inner sanctum of a legacy.
Hartt often relies on the clinically detached yet still seductive approach of the Dusseldorf School of Photography. Here, the interiors of the Johnson building are so rich and fantastical that they yield something that resonates emotionally and intellectually as well as visually. In addition to playing with the conventions of landscape versus portraiture, Hartt's camera mines the conceptual territory specific to this particular business and its history. Not only does he capture the workaday world behind the glossy pages of the magazines, but he also explores the boundaries between public and private while making reference to the publishing industry's shift from paper to digital. Ultimately, underlying all of this is a complex story about the changing nature of culture, particularly as it relates to race.
Using images captured prior to the building's recent sale to Columbia College, Hartt's installation works on many levels. It is a portrait, a document, a tribute, a reverie, a celebration and a dirge. Johnson based his business strategy on an ideology that focused on African-American success and aspirations. It is because of this that Stray Light is so poignant. While much has changed culturally since the 1970s, the role of the Johnson Publishing Company is not yet obsolete, and even though the headquarters have moved, the building and its signature marquee will remain, a testament to a vision that has had a lasting impact on American culture.