A small garden near rows of nondescript apartment buildings in Northview Heights serves as a small reminder of the ancestral farming traditions of Pittsburgh's Somali Bantu community. With its plots of rainbow chard, tomatoes and cabbage, the garden offers an opportunity for Bantus to farm like they did in Somalia, before they were violently forced from their land during that country's civil war. But the garden is only a small token of familiarity in what has been a difficult transition in the Steel City.
Northview Heights is a public-housing complex, set behind locked gates with security guards, in the midst of concentrated poverty. It begs comparisons to the Bantus' years in refugee camps in Kenya.
"When it comes to living in Northview Heights, it's been difficult, but not a strange place," says Aweys Mwaliya, a former refugee and head of the Somali Bantu Community Association of Pittsburgh. "Many people don't feel unsafe there, given their past, but it does not give the community hope."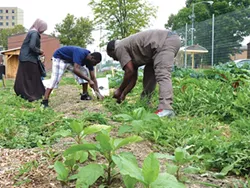 Only a few Bantus have contributed to the Northview Heights green space; the garden hasn't yet rekindled fervor for farming among the entire community. Instead, many of Pittsburgh's Bantus occupy a middle ground between reaching toward American assimilation and failing to grasp exactly how to succeed in the U.S. But the garden, like the Bantus, has the potential to succeed. New Bantu community groups are forming, and Allegheny County recently created plans to better connect immigrant groups to new services.
Welcoming Week (Sept. 16-26) is currently being celebrated throughout the county. The week-long celebration highlights the city's success in attracting and resettling immigrants to Pittsburgh — more than 18,000 since 2000 — and the diversity they bring to the region.
But for refugee groups like the Somali Bantu, there is little to celebrate. The community, comprising 200 to 300 people, has been living in Pittsburgh since 2004, but hasn't achieved many markers of immigrant success. Few of their children are attending college, few families have purchased homes, and discrimination is still very much a part of their lives.
"There are not a lot of Bantu in Pittsburgh," says Mwaliya. "We cannot live the same life we lived back home. If you don't have enough people to open [Americans'] eyes and to advocate, our struggles will continue."
So what is holding Bantus back? The answer may be as complex as the journeys many of them took to arrive on U.S. soil.
Mwaliya is a Somali Bantu who originally resettled in Salt Lake City in the early 2000s, and came to Pittsburgh in 2011. "Most people I knew lived here," he says. "The community here needed help. We were missing an organization so we could help ourselves."

Mwaliya says when he arrived, only five elders in the community had received citizenship, and there were problems obtaining interpreters in the county courts and area hospitals. He started the Somali Bantu Community Association of Pittsburgh in 2012. Since, he says, most Bantus have gained citizenship, and interpreters have been provided in schools, courts and medical centers.

Some of these achievements came with a fight. In 2006, Education Law Project on behalf of the Bantu community sued Pittsburgh Public Schools for better language and cultural services. PPS settled and developed policies to help second-language learners and guard against ethnic intimidation.
But these improvements haven't propelled Bantus into great educational attainment. Kristen Tsapis, who has volunteered with the community for years, says the several young Bantu are currently working towards associate degrees at schools across Southwestern Pennsylvania. But according to Mwaliya, only three college-age Bantus are currently enrolled in four-year universities, and few Pittsburgh Bantus have obtained degrees. "Wherever we go, we are educationally behind," says Mwaliya.
The Bantus, while living in Somalia, were banned from going to school, and many are illiterate as a result. When they were sent to refugee camps in Kenya, schooling was available, but girls didn't attend and the classes were taught in English and Swahili, not the Bantus' native language, Kizigawa.


To understand the Bantus' struggles is to understand their history. Originally brought to Somalia as slaves from west and southeast Africa during the 1800s, Bantus were freed during the Italian colonization of Somalia in the early 1900s. Many converted to Islam to avoid persecution by ethnic Somalis during the slave-trade era and continue to practice the religion today.
Bantus eventually settled in the Jubba Valley of southwestern Somalia. However, they were denied access to modern amenities due to their minority status. The Somali civil war broke out in 1988, and military groups invaded the Jubba Valley, bringing violence, rape, starvation and death.
A few years later, many Bantus walked to refugee camps in Kenya, and while they were safe from Somalis, the camps still had a litany of problems. Mwaliya says that both he and many other Bantus he knew spent more than 12 years in the camps, where they were brutalized by Kenyan authorities, and no real jobs were offered. Farmland was not provided, and many Bantus abandoned their farming traditions.
Mwaliya recognizes the problems of the camps, but says nothing was as bad as their lives in Somalia during the civil war.
"You can't even compare the camps to Somalia," says Mwaliya. "You can see a kid dying there, just asking for something to eat or drink."
Mwaliya says without work or farming access, and with little education, the camps put many Bantus into a cycle of dependency, something he wants to see his community break out of.
"You can advocate when your rights are violated, and you can advocate to move forward," says Mwaliya. "You don't get people to move you forward without moving yourself forward."
In order to help refugees transition more easily, resettlement agencies offer language, housing, and job-placement services as well as a few months' cash for rent and food. But agencies often have limited resources. After about a year, many refugees must provide for themselves.
Local groups like Northern Area Multi-Service Center offer cultural-assimilation programs, and the Greater Pittsburgh Literacy Council offer free English classes. These programs have helped thousands of refugees and immigrants adjust to life in Pittsburgh, but those programs might not be reaching the Bantus.
A 2007 graduate thesis by Leah Taylor on Pittsburgh's Bantus from University of Pittsburgh's School of Public Health points to some problems in the early years of the Bantus' resettlement: "This lack of cooperation among providers and the system of resettlement in the U.S. that encourages refugees to work as soon as possible, regardless of language ability, further hindered the ability of the Somali Bantus to exercise personal agency after arriving in the U.S."
However, social services have proven useful to many. For instance, when Russian Jews were resettled in Squirrel Hill in the early 1980s, they were embraced by the neighborhood's Jewish community, and many have since bought homes throughout the county. Other groups from the Middle East, Africa and Europe have arrived and assimilated into Pittsburgh life so well, they've gone mostly unnoticed. Pittsburgh has resettled more than 1,000 Bhutanese refugees since 2008; that group has flourished enough that around 5,000 more Bhutanese from across the U.S. have re-located here to be part of Pittsburgh's Bhutanese community.

The Bhutanese are arguably Pittsburgh's best refugee success story. After starting to arrive in 2008, hundreds of Bhutanese refugees have gone to college and purchased homes in Allegheny County, according to Upendra Dahal of the Bhutanese Community Association of Pittsburgh. Dahal says more and more Bhutanese are coming to Pittsburgh because homes are more affordable here than in other parts of the U.S. they have resettled in, like California.
Dahal details many similarities the Bhutanese refugees, whose ancestors hail from Nepal, have with Bantus: Both come from farming backgrounds, both were widely illiterate in their home countries, both were ethnic minorities who were harshly persecuted by the government, and both struggled when they first arrived in Pittsburgh.
"The transition was very hard, we got lost all the time," says Dahal. "We did not have any connections. We could not drive or use public transportation."
But Dahal says the Bhutanese have a history of advocating for themselves that might have contributed to their success in the U.S. When the Bhutanese government began attacking the group, Dahal says some people organized peaceful protests against the government. Dahal adds that while life in the Nepalese refugee camps was not easy, the Bhutanese took advantage of educational opportunities in the camps, and some refugees, like Dahal, received scholarships to go to school in India.