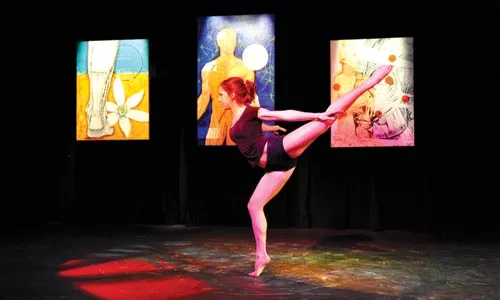 With the new year comes the birth of a new professional dance company in Pittsburgh. Continuum Dance Theater is part of umbrella organization Evolve Productions.
Continuum was formed, says artistic director Sarah Parker, to help fill a void in the Pittsburgh dance community with regard to contemporary concert dance -- a form incorporating both theatrical and commercial styles, such as hip-hop dance.
"Our goal as a company is to develop our own movement vocabulary and merge our collected knowledge and diverse stylistic roots into a strong and unique contemporary voice in the Pittsburgh dance community," says Parker.
Audiences can get a sneak peek at the company as part of Evolve Productions' Emerge 2011 program, this Friday at the New Hazlett Theater.
The 11-member Continuum Dance Theater will make its official debut sometime this spring, says Parker. She chose the name "Continuum" to reflect the cyclical nature of dance and life.
Parker, a native of Bethlehem, Pa., began dancing at age 4.
"I was a big ham as a child," says Parker. "I was always trying on my mom's shoes, putting on her jewelry and lipstick and dancing around the house -- anything for attention."
A dancer and choreographer, Parker took her talents to Point Park University, where she graduated in 2003 with degrees in dance and business. Remaining in Pittsburgh to pursue careers in both, Parker founded Evolve Productions in 2008 to offer serious student dancers in the area additional learning and performance opportunities in collaboration with area dance professionals. The goal, says Parker, "was to create an additional incentive for talented area dancers to stay in Pittsburgh to pursue their dance careers."
Evolve is making a name for itself in the Pittsburgh dance community, primarily for its showcase-style productions mixing up-and-coming pre-professional dancers with established Pittsburgh-area dancers, choreographers and multimedia artists.
Emerge 2011 follows that formula. The two-and-a-half-hour program goes beyond offering a glimpse of Continuum Dance Theater in works by Parker, including "Ordinary People" -- a Broadway-style ensemble piece set to music by John Legend -- and a restaging of Parker's 2010 duet "The Dance."
Emerge also features work by 13 other choreographers, including the Pillow Project's Pearlann Porter; members of Bodiography Contemporary Ballet, including artistic director Maria Caruso; Staycee Pearl; hip-hop dancer Gabriel Ash; and Joci Hrzic, artistic director of Altoona's Fluidity Dance Company. There's even involvement from local dance stalwarts Attack Theatre and Dance Alloy Theater.
Evolve Productions performs Emerge 2011 8:30 p.m. Fri., Jan. 7. New Hazlett Theater, 6 Allegheny Square East, North Side. $15 via www.ShowClix.com; ($18 at the door; cash only). 412-320-4610 or www.evolveproductions.blogspot.com