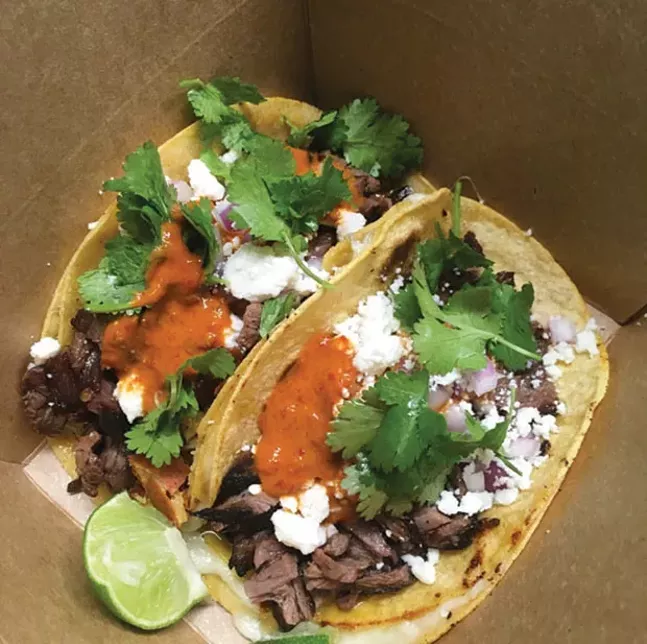 Pittsburgh isn't really a Mexican-food mecca. The region has some of the lowest percentages of people of Mexican descent of any large metro area in the country. To many Pittsburghers, a taco is the delicious concoction of a crunchy shell filled with seasoned ground beef, lettuce and yellow cheese.
This taco variety isn't really Mexican; it's a fusion of Mexican and American cuisines. But a new taco shop in Bloomfield is hoping to push, albeit gently, Pittsburghers over to the more authentically Mexican version of tacos.
Baby Loves Tacos is co-owned and operated by Zack Shell, and it opened last month. The space is pretty small and mostly does take-out orders, but it does offer some counter room for extra-hungry customers. Shell says the tacos, burritos, rice bowls and salads he serves aren't "traditionally Mexican." Shell calls his recipes "soulful food." The tacos, however, are presented in a more authentic Mexican style on soft-corn tortilla shells with cilantro, onions and salsa.
The menu has choices of tacos and burritos filled with roasted meats like brisket and marinated pork. And there are vegetarian options, with taco fillings such as buffalo-style cauliflower and barbecued mushroom.
Shell says he became accidentally immersed in Latino culture while working at the El Fuego restaurant in Philadelphia and playing in semi-pro, Hispanic soccer leagues. "I developed a love for it," says Shell of Mexican food. But he adds that Baby Loves Tacos is "never going to scare people away" who are unfamiliar with or intimidated by authentic Mexican cuisine.
In fact, Shell says he wants his restaurant to foster a welcoming environment in all ways. He says he pays his employees $15 an hour, plus tips. And he will make kid customers something that suits their tastes, like simple quesadillas, for free.
Shell says he chose Bloomfield because busy Liberty Avenue didn't have a taco joint. He says business has already been good, and he wants everyone in the area to come enjoy some tacos.
"We hope to attract people that are hungry, [whatever] their background," says Shell.