In the weeks following the inauguration of President Donald Trump, many of Pittsburgh's cultural and charitable institutions fought to raise money to combat the president's expected wave of new policies. Shows donated proceeds to causes affected by the new administration; musicians gave their time and music to rallies and protests. On Feb. 3, the online music hub Bandcamp donated all proceeds from the day's sales to the American Civil Liberties Union, prompting many local artists to upload previously released albums to the site.
When the new administration arrived, many of Pittsburgh's institutions knew how they'd respond. But what about newcomers? How do the city's younger, more recent transplants get their feet in the door?
According to Connor Murray, you just need to listen to those who have been doing it longer and write polite emails. Murray is a freshman at the University of Pittsburgh, as well as the founder of a boutique tape label called Crafted Sounds. He's released four tapes so far, with a fifth,
Have A Nice Day: A Pittsburgh Collection
, due out on Feb. 28. All digital sales and half of the physical sales will be donated to Planned Parenthood.
"This was something where I could highlight what's going on in Pittsburgh and help out the people in Pittsburgh," says Murray, an 18-year-old Maryland native studying economics and marketing at Pitt. His foray into the music business is purely recreational.
Have a Nice Day
features 16 tracks from mostly local artists, including Surf Bored (who previously released a tape through Crafted Sounds and also attends Pitt), Rue, String Machine, AllegrA, Spacefish, Brianna Snider and IT IT. While the songs aren't especially political — unless you count a title like wwoman's "Eating Ass" as a metaphor for 2017 — there is sort of a zeitgeist vibe to it, considering it was curated by a freshman college student during a particularly abnormal election year.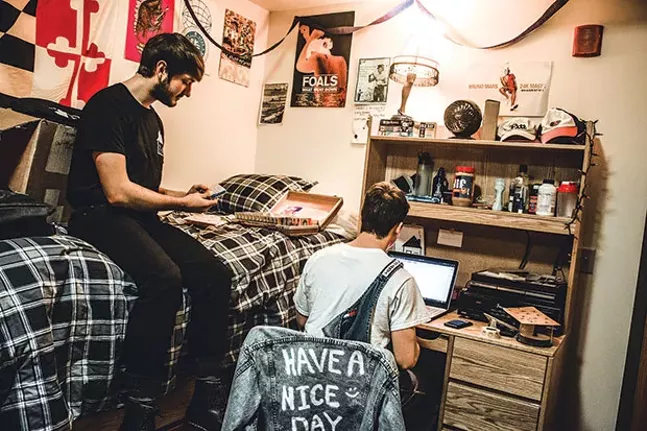 Style-wise, the songs are united by an experimental DIY mentality. The compilation opens with a woozy track called "The Ride," by Sleep Movies, pure bedroom stuff and pretty as hell. The aforementioned "Eating Ass" from wwoman is sexy electronic R&B. Joy Division's "Disorder" gets a high-energy injection from Surf Bored. If that sounds disparate to you, it's not.
Murray, who runs the label from his Pitt dorm room, was inspired to create Crafted Sounds after growing up attending shows in Baltimore and Washington, D.C., and recognizing the sense of community those events brought. Friends Records, based in Baltimore, was particularly inspiring to Murray because of its commitment to maintaining a strong sense of community within the scene.
"I thought, 'Maybe I'll try to make my own music,'" he says. "But I was terrible at it, so I started a label."
In addition to Surf Bored, Crafted Sounds has released tapes by High Sunn (San Francisco), Father Tribe (Nashville) and Flossy Clouds (Santa Fe, N.M.). Murray likes to keep the overhead low. He doesn't turn any profit; all proceeds go to the production of the next tape, of which he makes no more than 100 per release. The label provides only distribution and promotion, which allows Murray to stay focused on a quality product and ensuring that the label can continue.
Murray knew he wanted to release a compilation to highlight the underrated bands he'd been working with and listening to, but he was unsure of what to do with the profits. So naturally, he turned to social media and asked his followers to weigh in on a worthy cause. They chose Planned Parenthood. At the time, the threat to defund it was a vague campaign promise, but as it became more of a reality, Murray realized the initiative could actually make a difference.
The 2016 election was the first election Murray was old enough to vote in. He had no context for what a "normal" election cycle looks like, but he says it quickly became clear to him that this was not normal.
"Being able to see Hillary at the University of Pittsburgh, and then vote for her the next day ... it was insane," says Murray. "But now to rally with all these individuals to make sure we can keep together as a city, as a state, as a country. That's what this is. It's me saying, 'We can still get it done.'"
____________________________________________________________________________________________________
Here are some additional upcoming events that benefit local and national causes.
Feb. 10
1 Billion Been Rising Youth Open Mic Night to END Gender-Based Violence.
BOOM Concepts, 5139 Penn Ave., Garfield. 412-450-0290 or www.newvoicespittsburgh.org/sistahspeak.
Feb. 17
The Vagina Monologues performed by Magee Women's Hospital providers.
Ace Hotel, 120 S. Whitfield St., East Liberty. $10. 412-361-3300 or www.acehotel.com/pittsburgh. Benefits Pittsburgh Action Against Rape
Feb. 23
Reign Check, King Fez and Weird Corners.
Brillobox, 4104 Penn Ave., Bloomfield. 412-621-4900 or www.brilloboxpgh.com. Benefits Planned Parenthood
March 3
The Who's Tommy, Live In Concert, performed by members of Pittsburgh's music scene.
Rex Theater, 1602 E. Carson St., South Side. 412-381-6811 or www.rextheater.com. Benefits Children's Hospital of Pittsburgh


March 18

Crafted Sounds Pittsburgh Showcase with Capsule Corp, Spacefish, Rue, wwoman and String Machine.
The Bushnel, North Oakland. https://www.facebook.com/events/584703718389599/ Benefits Planned Parenthood