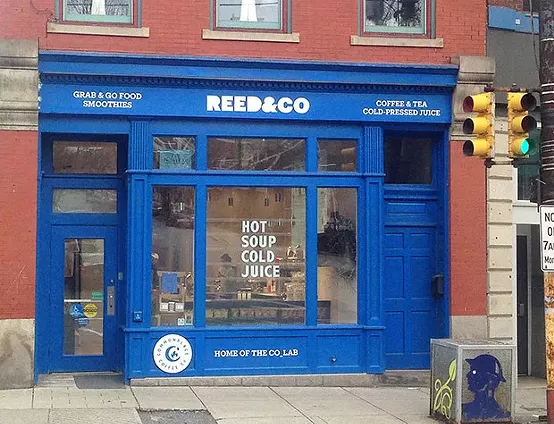 Pittsburgh food is not known for being particularly healthy. A "Pittsburgh" version of a dish usually means adding French fries, meat or lots of shredded cheese. Reed & Co., the bright blue juice bar which recently opened in Lawrenceville, is aiming to change that. At least a little.
Its New Pittsburgh Salad — the "classic" one is known for its steak or chicken, French fries and ranch dressing — gets a makeover with avocado-oil potato chips, nutritional yeast and vegan ranch dressing. Even Reed & Co.'s sweeter fare — like chocolate-avocado pudding or sweet raw oatmeal — opt for fresher, less caloric ingredients.
Owner Reed Putlitz worked for years as a fashion designer in New York City, and noticed his daily dependence on three spots: a juice bar, a cafe and a bodega. Thus, he was inspired to open Reed & Co., which attempts to combine the healthiest fare of all three, in a casual grab-and-go fashion.
The cold-pressed juices come in four flavors: red, green, orange and white. The red and orange are pleasantly sweet, while the green (made with a bevy of veggies) has more of an earthy vibe. The white — what Putlitz calls a "healthy milkshake" — is made with cashews, dates and vanilla.
In addition to juice, salad and snacks, Reed & Co. carries Commonplace Coffee, Gryphon's tea and baked goods from Gluten Free Goat. A sandwich menu is planned, and other expansions are in the works, but for now, Putlitz is focused on settling into the daily rhythm of running his three-in-one business.
4113 Butler St., Lawrenceville. www.reedand.company