Fans of
Bricolage Production Company
's epic immersive, interactive theater work
STRATA
, and smaller-scale immersions like
OjO
, will look forward to the latest in the company's Immersive Encounters series. They also won't mind that Bricolage is providing even fewer details about
IE: The Ascendants
than it offered about previous offerings. Basically, you sign up for your 20-minute
Ascendants
time slot, and 24 hours in advance you'll be told where to report in Downtown's Cultural District. Beyond that, says Bricolage artistic director Jeffrey Carpenter: You'll have two "dream hosts," played by Andrea Kozia and Michael Brewer; the experience is about memory; and "It will hit all of the senses," with an emphasis on the sound design by District 5.
The show was developed by the core
STRATA
and
OjO
team, including Carpenter, Tami Dixon, Sam Turich and lead writer Gab Cody. It's recommended for ages 16 and up (no children, please). And while you can buy tickets in groups of up to four per time slot, each participant gets her own "show." "Mainly," says Carpenter, "it's a super-personalized experience."
April 21-May 14. Downtown. $15. www.bricolagepgh.org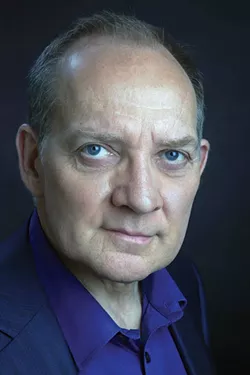 Zach Grenier, best known as ethically challenged attorney David Lee on TV's
The Good Wife
, is in town to play a very different sort of character. Grenier stars as Arthur Miller's tragic-hero everyman Willy Loman in
Pittsburgh Public Theater's Death of a Salesman
. The 1949 classic is directed by Mary B. Robinson.
April 20-May 21. 621 Penn Ave., Downtown. $15.75-66. www.ppt.org
In the 1980s, playwright Frank Gagliano and Broadway composer Claibe Richardson created a musical-theater work about the inhabitants of a mythical American town. To this blend of
Our Town, Spoon River Anthology
and
Jacques Brel Is Alive and Well and Living in Paris
they gave the title
From the Bodoni County Songbook Anthology: A Musical Revue (of sorts
). With such politically and socially resonant tunes as "I Don't Give a Shit About Anyone Else But Me" and "Cul-de-sac," the work is timely once again. On April 24, Gagliano and
Musical Theatre Artists of Pittsburgh
offer a free staged reading at Carnegie Stage. Melissa Martin directs a cast of seven including such local stalwarts as Jeffrey Howell, Christine Laitta and Connor McCanlus.
7:30 p.m. Mon., April 24. Carnegie Stage, 25 W. Main St., Carnegie. Free. www.insideoffthewall.com