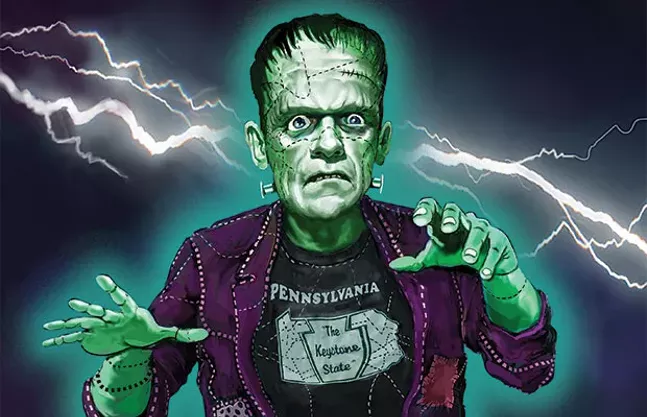 At a time when every election is important, I have to admit that writing about the 2018 midterm elections two weeks before the 2017 election seems a bit counterproductive.
An extremely low number of people will likely turn out to vote because in this municipal-election year, there's not really a marquee race or issue. That's a sad fact, but one that has been proven true in similar elections. But what if I told you that there's a race on Nov. 7 that could potentially affect elections for the next decade or more?
Some recent lawsuits have brought the issue of gerrymandered political districts back to the fore, and sooner or later, the Pennsylvania Supreme Court will be involved. Gerrymandering involves redrawing districts to make it advantageous to one party over another.
Not that this is new information. We have repeatedly written stories about the importance of voting in state Supreme Court races, and this year is no different. Democratic Common Pleas Court Judge Dwayne Woodruff is squaring off against Republican sort-of-incumbent Sallie Updyke Mundy. She was appointed last year by Gov. Tom Wolf to replace Republican Justice Michael Eakin, who resigned after becoming involved in 2015's Porngate (in which public officials were sharing pornographic emails on state computers … dumbasses).
Justices are supposed to follow the law and not their political ideologies, but we all know that just doesn't happen all the time. Especially in cases where the political system stands to be rigged for years to come.
A quick refresher:
In 2011, lawmakers were busy redrawing the state's political districts following the 2010 Census. Every decade, we get new districts for the state house and senate as well as new congressional districts. The boundaries of the districts change, because over the course of time, populations of certain areas also change.
The problem is, the process is controlled by the political party in charge. In 2011, that was Republicans and the monster they created existed to serve only one purpose: to create voting blocs that gave the GOP control of the state house and senate, as well as the U.S. House of Representatives.
And just in case you haven't read any papers during the past six years, it worked. The act of redistricting for political gain, known as gerrymandering, isn't allowed. And while state Republicans claim their redistricting map is legal, most anyone with a pair of eyes and a reasonably sound bullshit-detector knows that's not the case. A study conducted by the New York University School of Law called Pennsylvania's map "the most extreme levels of partisan bias" in the country.
In response, there have been several lawsuits filed around the country, including one in Pennsylvania by the League of Women Voters. The league wants the redistricting map to be thrown out, and for the 2018 midterm election for seats in the state house and senate and the U.S. House of Representatives to be held with more constitutionally fair boundaries. The U.S. Supreme Court will be hearing a redistricting case out of Wisconsin that, if voting-rights advocates won, could provide guidance for any other cases.
However, Judge Dan Pellegrini, who has the Pennsylvania case, has scheduled a hearing for Dec. 5 and wants to wait for the U.S. Supreme Court to rule next spring before making his ruling. This means there wouldn't be enough time to fix any problems before the 2018 primary.
However, there's a provision in the state constitution that gives the state Supreme Court "King's Bench Power." This power allows the court to take jurisdiction away from lower courts, such as Pellegrini's, and adjudicate a matter itself. One of the reasons for this is for matters "involving an issue of immediate public importance." Invoking the King's Bench provision would settle the matter in time for the 2018 primary, and the League has petitioned the state Supreme Court to hear the case. Will it take up the case? Who knows, but I can tell you that now Democratic jurists hold a 5-2 majority. I have no idea if it will happen, but because of last year's vote at least it could happen.
And with the way things are now, we need to take any edge we can get.