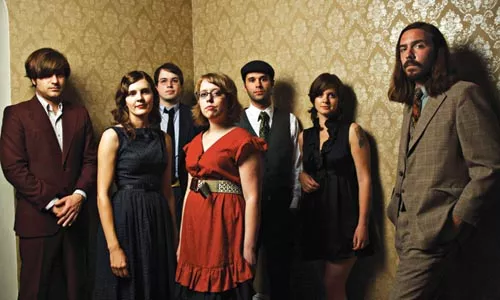 Plenty of great music has come from bands helmed by benevolent dictators, control freaks and tyrants. Something different happens, though, when that central figure adopts a more generous approach with a loose coalition of musicians. For local Americana act Boca Chica, many hands make light work -- and lively, arresting music.
Two years after issuing the stark, haunting debut Transform into Beasts, singer-songwriter Hallie Pritts and Boca Chica's rotating lineup are back with Lace Up Your Workboots -- and, naturally, plenty of other changes.
"We've been through so many permutations," Pritts says with a smile, over coffee in a Bloomfield café. Initially, there was the acoustic Americana trio, then a more energetic rock-band format, now a sprawling, indie-rock orchestra. Awhile back, Pritts calculated that Boca Chica had involved more than 30 musicians; by now, "we're probably up to 40 or so."
The rotating lineup, Pritts suggests, helps keep the sound and personnel fresh, which attracts new audiences. Aside from Pritts, the only constant has been Susanna Meyer on backing vocals and bass. Other than Essex Green's Jeff Baron, who contributed guitar and banjo, none of the musicians on Workboots currently plays in the live band.
For Boca Chica's release show at Belvedere's, on Fri., Sept. 18, Pritts, Baron and Meyer will be joined by Rick Moslen (Horse or Cycle), Greg Dutton (Lohio) and Josh Kretzmer (Mariage Blanc). So many hands make it easier to replicate Workboots' textured arrangments: "We're doing a damn good job of doing it live," says Pritts.
Recording started last August at Machine Age; Pritts, self-described as "non-possessive" about her songs, supplied the basic frameworks, then solicited ideas and direction from the other musicians. Toward the end, she recorded overdubs in Philadelphia with engineer Christopher McDonald.
As soon as the opening track, "Lake Erie," kicks in, it's obvious that Boca Chica has grown more assured, melodic and engaging. Pritts' clear voice -- at times reminiscent of Mirah and Joanna Newsom's tamer vocalizations -- never breaks into overdrive. But she takes chances on notes and melodies that dramatize the material, atop the band's orchestrated-folk sound.
The banjo-driven "Backseat" has a jaunty swing, while "Pins and Needles" smacks of a '70s Topanga ballad. "Shake Your Party Dress" suggests Fleetwood Mac's "Gypsy" with its groove and cascading Buckingham-esque guitar, while "Workboots" ambles along to a moody, Neil Young clip-clop. In sweetly fingerpicked "Minneapolis," one of the album's more reflective moments, Pritts looks back on chances not taken: "And then, my twentieth year / we had nothing to fear, but we feared / We could have conquered North America in a year."
As she did on the Beasts sessions with David Bernabo, Pritts gave McDonald full creative control over one track, closer "The Hourglass Waltz." As the song moves toward its conclusion, increasingly wild synths and electronic beats enter the mix, slowly overpowering the banjo and acoustic drums -- a kaleidoscopic Todd Rundgren effect. Like the rest of Workboots, this last experiment demonstrates the rewards and surprises that can happen with a group of good friends, great musicians, and most importantly, open hands.
Boca Chica CD Release with The Central Plains and Mariage Blanc. 9 p.m. Fri., Sept. 18. Belvedere's, 4016 Butler St., Lawrenceville. $5. 412-687-2555