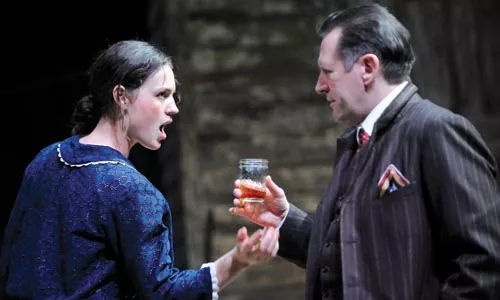 Victor Slezak. That's the actor whose depth and truth makes Eugene O'Neill's A Moon For the Misbegotten at Pittsburgh Public Theater something to grab you and stay with you long after the stage lights have dimmed. Slezak exceptionally brings out O'Neill's tender, insightful compassion for a character drawn from the writer's own dark family life, in a performance expertly shaped and shaded by director Pamela Berlin.
Only three major characters dominate the territory, and only gradually do they become fully exposed. At first this production seems like a boisterous, almost sunny dance among garrulous people without much on their minds other than survival, two of them propelled by constant immersions in drink.
The play concerns tenant farmer Phil Hogan; his contentious, volatile daughter, Josie; and their landlord, cynical, alcoholic, third-rate professional actor Jim Tyrone. When it appears that Jim will sell the farm, evicting the Hogans, Phil schemes to have Josie make Jim commit his fortunes and fate to her. Everything intensely narrows to how Jim and Josie come out in the moonlight from behind their masks, to reveal pain, wants and the need for love.
Given the absence of much story development and the play's length, it becomes remarkable how Slezak, Beth Wittig as Josie and director Berlin movingly, intimately draw you into these characters.
O'Neill's vivid dialogue creates a memorable portrait of the depths of alcoholic despair and the self-loathing that accompanies it. And, in Jim, he portrays a tragic person for whom we cannot help but feel pity and sorrow. Slezak's naturalness and remarkable subtlety can touch you where you live, aided by how Berlin keeps the focus simple but intense.
Beth Wittig's take on Josie early on seems broad and heavy-handed, but it turns out that that's a protective shell, consistent with O'Neill's intention. Wittig needs cracks in that shell sooner and more clearly. Ultimately, she becomes convincingly real, vulnerable and tender. As Phil, Tom Atkins pulses with charming vitality and inner warmth even when peeking through the miasma of drunkenness.
Some audiences might shy from this characteristic O'Neill work, unwilling to go where the darkness leads. But he has created a moving portrayal of a deeply troubled person, one we might recognize as someone else we know, someone we could love and redeem across the barriers of addiction.
A Moon for the Misbegotten continues through May 17. Pittsburgh Public Theater, 621 Penn Ave., Downtown. 412-316-1600 or www.ppt.org