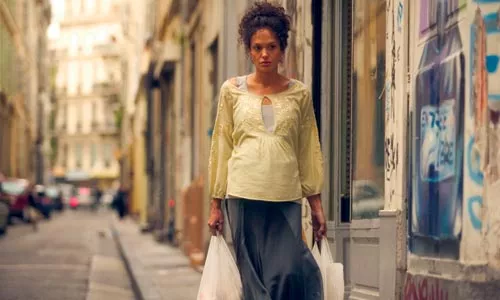 How many extra points does a movie get for good intentions? A Mighty Heart tells the story of kidnapped Wall Street Journal reporter Daniel Pearl and the efforts of his wife, his colleagues and the Pakistani government to find him before it's too late. They fail, of course: Pearl's abductors beheaded him, released a video of the murder, and returned his body in 10 pieces.
This is all yesterday's headlines, and that's the problem with A Mighty Heart. We learn nothing here that we couldn't (or didn't) learn from a thorough newspaper article, and the film's politically oriented British director, Michael Winterbottom (Welcome to Sarajevo), paces it rapidly, like a thriller, presumably to hold an audience's attention.
But is such an enterprise worth it? Will people who won't spend 30 minutes reading something take away anything significant from a movie on the same subject?
The title refers peripherally to Pearl (Dan Futterman), but mostly to his wife, Mariane (Angelina Jolie), a French-born journalist who was pregnant at the time of Pearl's abduction. At the end of the movie, we seem to learn that Mariane practices Buddhism. This -- and the fact that she's clearly well educated -- explains everything, more or less: her emotional control during the search, her certainty that he'll be found, her introspection, her commitment to ideas and values. Her belief in a unified world seems to be the movie's one idea, easily presented and understood.
But mostly, Winterbottom's film races through the frantic search to find Pearl by tracing e-mails and phone calls. When suspects turn up, the lead investigator -- portrayed by Irfan Khan, the kindly father in The Namesake -- turns from resolute policeman into resolute torturer who gets results, although not soon enough. (Karachi is a teeming morass of a city, so finding Pearl was impossible from the start.)
Winterbottom films A Mighty Heart in the hackneyed style of an episode of NYPD Blue, with nervous hand-held cameras and tight close-ups to convey the sensation of immediacy. The plot isn't quite as complex as the impenetrable Syriana, but because we all know what's coming, it doesn't matter if we can follow it. This makes the drama feel very impersonal, and apart from Mariane's excruciating breakdown when she learns of Pearl's death, only one brief scene moved me: When the kidnappers release a picture of Pearl with his face obscured, and some people question whether it's him, Pearl's mother says simply, "Of course it's him. I recognize his hands."
After Pearl's death, a TV interviewer asks Mariane how she feels about the turn of events. She reminds him that terrorists killed 10 other people that week, and that we should grieve for all of them. This is beautifully heroic, and watching the story of a magnanimous woman who believes in something is consoling. Still, one wonders where and when the magnanimity will end and the anger begin.

Starts Fri., June 22.