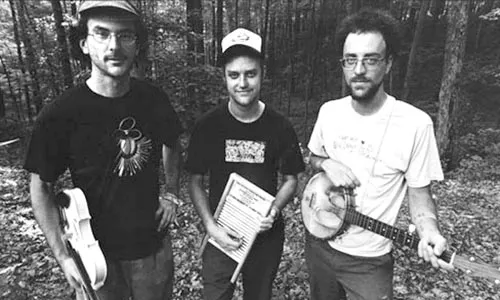 Quick: Name the last evening you spent listening to incredible down-home music and each of the three bands covered a Cock Sparrer song. Nothing come to mind? Head to Project 53, Pittsburgh's new and unique musical destination, and find an answer.
On Jan. 2, the year starts with a bang as the Can Kickers, Joy TouJours and the Toys DuJour, and Hawkeye bring the noise on violin, accordion, uke and banjo. All players involved are better known for more raucous ventures, but are taking advantage of the opportunity to show off their musicianship in a one-of-a-kind setting.
Meanwhile, Project 53, a converted Polish Hill house, is taking advantage of the opportunity to introduce itself to Pittsburgh fans of both music and community. Project 53 fills a void that most didn't even know existed -- a family-friendly resource for free music. Neither concert venue nor bar, it's intimate (capacity is around 80), with a potluck supper and good folks playing great music.
"People ask us what we do and we say, 'Different stuff -- we don't really know. We'll see,'" says show and space organizer Joy TouJours.
The evening with the Can Kickers is just the second musical show in the four months the site has been open. (The first was a benefit for Big Idea bookstore.) But there's been no lack of activity between shows. Project 53 provides a CD trading-post and space for lessons; sponsors workshops; and hosts a monthly kids' jam for budding musicians age 12 and under.
Additionally, an instrument library is being established, with instruments for check-out or on-site use. "When I was growing up I didn't really have anywhere to go play guitar," Toujours says. "I always thought libraries should have a music room where you can just go wild."
TouJours' own band has previously gone wild with a puppet show based on a children's book he penned. This time around, it features a guest tap-dance artist -- all part of the goal to present an evening's entertainment that will never be duplicated.
Hence the collective covers of punk pioneers Cock Sparrer, learned by each band just for this show. "Most likely you'll never see any of these bands playing Cock Sparrer again," TouJours says. But once you've visited Project 53, you'll want to return to see what happens instead.
Can Kickers, Joy TouJours and the Toys DuJour, and Hawkeye 7 p.m. Sat., Jan. 2. Project 53, 3345½ Melwood Ave., Polish Hill. Free. 412-897-6943