Pittsburgh has launched the inaugural Re:NEW Festival at a time when environmental-justice issues are exploding across the United States. A pipeline leak renders Alabama, Georgia and Tennessee in states of emergency. A temporary injunction stops further construction of the Dakota Access pipeline. What one must remember, and thus protect, Standing Rock Sioux Chairman David Archambault II succinctly declares: "Mother Earth is sacred."
It is this sanctity that is an undercurrent of Re:NEW. In particular, the festival's focal point, the North American premiere of Barcelona, Spain-based Drap-Art, seeks to elevate awareness around the dire consequences of environmental pollution. For this survey of Drap-Art's first two decades, founder Tanja Grass has selected 40 artists from 16 countries to present 80 works that range from painting and drawing to sculpture, decorative craft, jewelry and furniture, all made from reclaimed or salvaged materials.
There are many noteworthy pieces throughout the PPG Wintergarden, including nine stunning photographs by Klaus Pichler. A cloud of fruit flies hovers over a glass bowl of decomposed berries. A seemingly gilded pineapple rots with iridescent mold. Entitled "One Third," the series references the United Nations study stating that one third of the world's food goes to waste, mostly in industrialized nations, while 925 million people worldwide suffer from starvation.
An equally strong voice challenging the ingrained, wasteful habits of consumer societies is HA Schult. "Trash People," exhibited as a single sculpture, installation photograph and video, confronts irresponsible consumption with its assemblages of aluminum cans, plastic bottles and oozing orange foam in the form of life-sized humans. However, much of the work's intensity diminishes when only a single Trash Person is presented. The power of Schult's message is in its volume — when there are hundreds of sculptures standing side-by-side like the First Emperor's Terracotta Army. An apocalyptic vision of the future, when trash overpowers and defeats humans.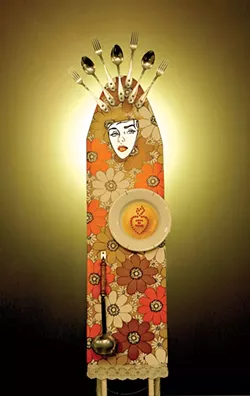 To balance the mix, Grass has selected many Spanish women artists to tell a different narrative of domestic labor and feminine power. There are the Pop-infused assemblages of Jana Álvarez, fashioned from electronic waste, plastic remnants, flip-flops and motherboards, and Karol Bergeret's discarded ironing boards turned into holy shrines for working women. There is the visual and linguistic play of Verónica Arellano's portrait of Impressionist painter Mary Cassatt. Constructed of egg cartons and varnish, her 97-square-foot painting is from a series of 10 portraits of prominent women. These are women with grit, gumption and "balls" or "huevos" — literally eggs and ovaries.
The Wintergarden's centerpiece is the glistening mural of salvaged CDs and DVDs by Haydee Acero, of Argentina. As the sunlight hits the various surfaces, the wall radiates with rainbows of color, a beauty that belies a more dismal fate for obsolete media. Amidst all the remnants and relics of technology and consumption, there remains an eternal hopefulness. The mural's title, "La Trama," means plot, conspiracy, weave, connection. Indeed, a woven and multifaceted storyline is an excellent metaphor for Drap-Art, as in addition to themes of eco-consciousness, there are many interconnected elements visitors can certainly appreciate and glean from the show.
A regional counterpart to Drap-Art is Re:NEW's Juried Exhibition, featuring 21 artists and 31 works from Pittsburgh and environs, selected by the Carnegie Museum of Art's Eric Crosby, artist and BOOM Concepts co-founder D.S. Kinsel, and curator and art historian Kilolo Luckett.
Highlights include Bradley Weyandt's "Brunette Block," named Best in Show. By salvaging castoffs, Weyandt manipulates forms into new functions; in this case, he has sculpted a cinderblock with strands of discarded wigs. Deceptively delicate, balanced at an angle, the block evokes layers of cultural references: The Nazis' collection and reuse of human hair from concentration-camp victims. Multiracial artist Sonya Clarke's use of hair in such work as "Abacus 1863." The runway queens of
Ru Paul's Drag Race
. The very choice of medium infuses the work with multiple meanings.
Another notable winner is Jennifer Nagle Myers, recipient of the Tess Senay Raynovich Art and Earth Fund Award. "Waterfall Vision" comprises three parts: The first is a series of four drawings in Chinese ink and acrylic on slate panels; the second rests upon the floor in a serial of black and white ropes coiling around a copper pot filled with black ink, water and glitter; the last is a meditation created by Sonarchaeology Studios using waterfall sounds and other clips, including material from Ken Burns' Civil War documentary. Unfortunately, much of the audio gets lost when there are multiple people in the adjacent performance area and artisan market. The piece may be best experienced during a contemplative Friday lunch hour.
This is the greatest gift of Re:NEW: the time and space to reflect and learn. Then, beyond the festival's closing, the seeds of action to protect and sustain what is sacred might blossom in due time.