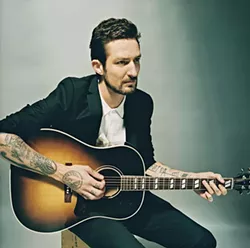 In 2005, British singer-songwriter Frank Turner parted ways with his hardcore band, Million Dead, and began strumming his way around the U.K., playing house parties and pubs, recording songs on his laptop and sleeping on strangers' couches. Exhausted and a little defeated, he was hell-bent on one thing: continuing to play music.
Ten years later, Turner, 33, has headlined a sold-out Wembley Arena and performed at the London Olympics Opening Ceremony. He's also corkscrewed around the globe playing nearly 2,000 meticulously archived shows, many of which are detailed in his 2015 bestseller, The Road Beneath My Feet, a tour diary of the highs and lows that punctuated his trajectory from drifting lyricist to swashbuckling folk-punk hero.
Backed by the heft of his steadfast band The Sleeping Souls, Turner's latest studio album, Positive Songs for Negative People, debuted at No. 2 in the U.K., and with it, Turner is adamant he's not interested in repeating himself. "Every time I release a record, somebody, somewhere says, 'It's not like the old thing!' And I say, 'I know! That's the fucking point!'" he says in a phone interview from a dock in Hamburg, Germany (shortly before playing show No. 1,725 on a boat named Frau Hedi).
Whereas his last album, 2013's Tape Deck Heart, was about failure and collapse, Positive Songs is about picking oneself up and putting the pieces back together. "I had a very clear idea of how I wanted it to sound," says Turner. "I wanted a more immediate, slap-in-the-face kind of vibe [rather] than a grower."
To achieve this, Turner sought out producer and songwriter Butch Walker, a move initially dismissed by his label. "I genuinely had no idea that he produced people like Taylor Swift and Beck," he says. "The label kind of looked at me funny and said, 'Are you serious?'" The worry, says Turner, was money: "And I said, 'Oh, bollocks.'" Turner connected with Walker via email. Turns out he's a fan.
In 2014, Turner and The Sleeping Souls recorded the album in Walker's Nashville studio in just nine days, lending it the live, unvarnished sound Turner had envisioned. Positive Songs is a combustible cocktail of optimism, near-victory and regret. From the wake-up-call anthem "Get Better" to one of Turner's favorites, "Josephine" (a name evoking the love interests of Napoleon and Beethoven, and, for Turner, "the idea if the 'perfect other' even exists"), the album's rollicking strings and pounding piano balance Turner's soaring vocals, which are propped by the rowdy chorus anthems beloved by his live audiences.
The finale, "Song for Josh," is a tribute to Turner's close friend Josh Burdette, who took his own life in 2013. Burdette worked at the legendary 9:30 Club in Washington, D.C., and Turner recorded the song there, with Burdette's family in the audience.
These days, Turner — who first played in Pittsburgh in 2010 in response to an email from a guy named Dan (show No. 803 is simply archived as "Dan's Basement") — might be exhausted, but he's anything but defeated. He's back in Pittsburgh this Saturday at Mr. Smalls. Sold out.