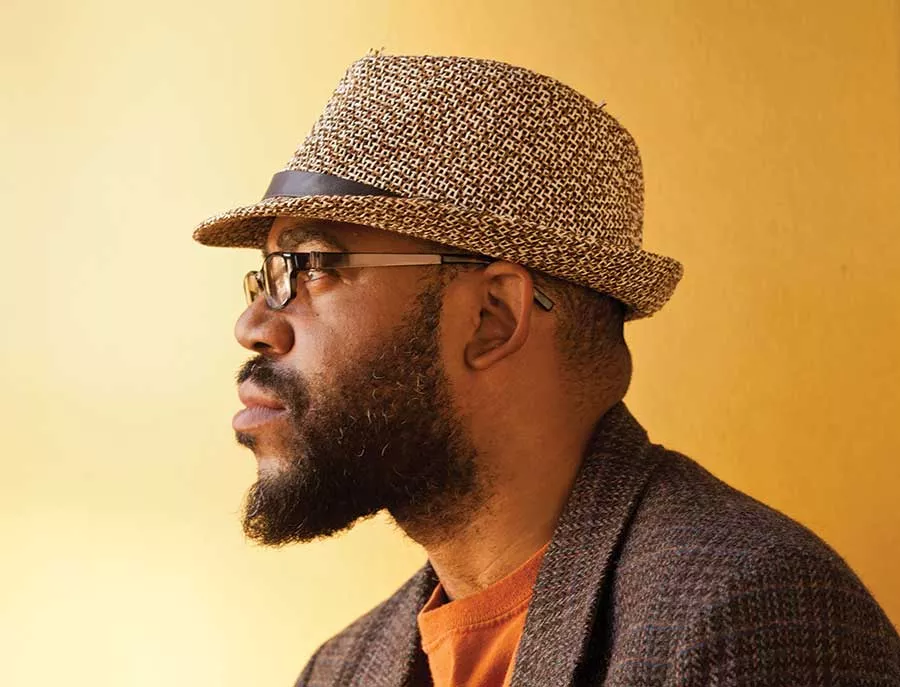 When Leslie Smith was 3, his mom moved back to Pittsburgh; his parents split up and his father, also named Leslie Smith, headed to California. A few years later, when Smith was in third grade, his teacher at East Hills Elementary announced a pen-pal project. Smith asked her, "Would it be OK if I wrote to my dad instead of a stranger?"
Smith says his letters brought his dad back into the lives of he and his younger sister — fitfully, at first, culminating when he was 15 in a brief attempt to live with his father. For years afterward, Smith and his dad didn't even speak.
Now Smith, at 37 long one of Pittsburgh's top spoken-word artists, has his own 15-year-old son. And in his first full-length solo stage show, he tries to explain his life — the life of a black man growing up in Pittsburgh — to the boy in a way Smith himself never experienced, in stories and poems. The Book of Ezra premieres Oct. 4 at Pittsburgh Playwrights Theater Co. "What I was asking my dad to do with me," he says, "is what I'm attempting to do with this."
[break]
The second Friday of each month you'll find Leslie "Ezra" Smith onstage at the Hill House Kaufmann Center, in the Hill District. He's the affable host of Eargasm, the performance-poetry and open-mic series he launched four years ago. In August, the networking-and-arts event drew 40 attendees, mostly in their 20s and 30s. Before introducing that evening's open-mic poets, Smith performed his bittersweet but hopeful piece "Her Smile." Its lines include, "I still see my mistakes as my identity" and "I've been hugged and forgotten, over and over, mostly by me."
The crowd enthuses over Smith and the other performers, mostly locals but including notable featured guests like Chicago-based poetry-slam champion Phenomenon the Poet. More than an entertainer, between acts Smith also exhorts the crowd to do "something positive" with their lives, "something to pass on to the next generation. They cold because you cold."
As a teenager growing up mostly in Homewood and Larimer, Smith searched for a cultural identity. A hip-hop fan and rapper from childhood, he got into Bob Marley, Public Enemy, the Nation of Islam; he quit going to church. When his mom grew frustrated by his teenage rebellion, he'd say, "Send me to my dad." One day, she did.
In San Gabriel, Calif., Smith says, he argued with his dad, too; the elder Leslie Smith, a born-again Christian who worked in building security, eventually kicked him out, and Smith wound up living briefly in a Nation of Islam house in South Central Los Angeles. There, he dressed sharp, and sold The Final Call and bean pies on the street.
By the time he returned to Westinghouse High School, months later, his life experiences had given him a voice. He discovered performance poetry and worked at it (along the way embracing the alternate name "Ezra"). Local actress and performance poet Kim El says that when she first saw Smith perform, in 2002, she thought he might be from New York. "When I found out he was just a regular guy from Homewood, it really impressed me with his power and professionalism," says El, who became close friends with Smith. "He gets the audience riled up. He goes there."
"He exhibits his strength through his vulnerability," says Yah Lioness Borne, another top local performance poet. "You see him do a performance and you want to talk with him about it, as a human being, afterward."
For several years, starting in 2002, Smith co-hosted the popular spoken-word open-mic nights at Shadow Lounge. "He's one of those artists you always root for," says Shadow Lounge's former owner, Justin Strong. (The venue closed last year.)
Since 2003, Smith's also been a stage actor, with professional credits at Pittsburgh Playwrights, New Horizons Theater and now-defunct Kuntu Repertory Theatre. Away from the stage, he just started a new job as site coordinator for the K-5 after-school program at Pittsburgh Concord, in Carrick. But it was through stage work that he met Mark Clayton Southers, the Playwrights founder and artistic director who helped him develop The Book of Ezra.
"I knew he's a survivor of a lot of things emotionally," says Southers, who has directed Smith in works including August Wilson's King Hedley, and who's also directing Book of Ezra. "I wanted him to tell his story to enlighten folks and to see how he became a poet."
[break]
The 80-minute show is built from poetry and personal storytelling about what Smith calls "defining moments" in his life. It opens with Smith drawing lines between young, unarmed African-American men recently gunned down in the street — Trayvon Martin, Michael Brown — and his own son, Amaru Williams: "Will my son be the next one shot on his way home from the store?"
Smith is acutely aware that for the first 10 years of his son's life, "I really wasn't there as consistently as I should have been." He notes that none of his friends growing up had fathers at home, either. He adds, "It makes me feel like I almost began to create a cycle of men not being there."
Amaru and Smith's daugher, Zuri Smith, live with their mother; Amaru attends Pittsburgh's High School for the Creative and Performing Arts. But while Smith says he's making up for lost time as a father, he wishes he had more to fall back on: "Sometimes I wish I would have had some talks with my dad — I'm not blaming him, but I think it would have been helpful for me to understand, 'What does a man go through in these situations?'"
"I just imagine," he says, "what if my dad wrote his story out for me?"
Smith now lives in Perry Hilltop with his girlfriend and her two young children. He says he's slowly improving his relationship with his own father, who's now a social worker: "I think I'm beginning to humanize him, instead of just, 'the dad that wasn't there, the dad that wasn't there.'"
Book of Ezra covers a lot of ground. On a stage augmented by images on a widescreen TV, Smith tells stories as diverse as: his reaction, as a fourth-grader and aspiring astronaut, to the explosion of the space shuttle Challenger; the day that stealing cigarettes made him an actor; and how he was once assaulted by a former middle-school classmate because he now lived in the wrong neighborhood.
But if the show ranges wide, its mission is focused.
In The Book of Ezra, Smith asks, "How am I going to prepare my son for a world that seems not to value his life?" Then he answers himself: "I got to get it together for him. He deserves that."