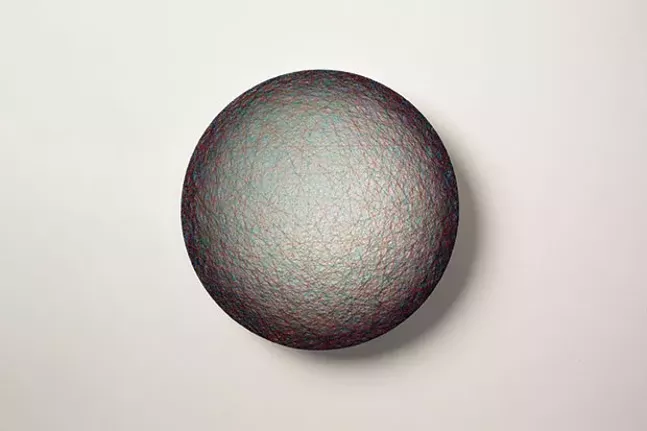 I met Emil Lukas more that 30 years ago. He believed he was an artist.
He was a big galoot, taller than my 6'4", and wore size-15 work boots.
A gentle giant and serious at his craft, he had caught the attention of the late John Caldwell from the Carnegie Museum of Art, and later the San Francisco Museum. John's caring and attention to everything art changed both of our lives.
He felt we should know one another.
The setting was an abandoned factory in Etna, within the musky smell-zone of the Allegheny River, replete with metal scrap, mounds of plaster and large dark charcoal drawings.
Emil was consumed by his art. Wrestling through the rusted rebar, the copper and steel cut-offs, the bearings, damaged railroad ties and chemical spills, he fashioned gigantic creatures: 20 feet high, skinnier than Emil himself, sporting size-50 feet. They were sentinels of the decrepit mills. The sculptures grew like trees in the misty dank sooty interiors.
One was entitled "The Three." Huddled together they might represent his second-generation Slovakian father and Emil with his brother Dan; they might be Native American spirits of the sacred Three Rivers. They could be explorers ready to cross America, one humongous footfall after another toward the Pacific Ocean.
My Mendelson Gallery was then in its first incarnation, next to a Morewood Avenue strip club. It fared better than most venues because (to quote Dylan) "When you ain't got nuttin', you got nuttin' to lose …" I pushed the limits of the 'Burgh with off-beat visiting artists from New York, France, Switzerland, Italy and Brazil. No one was getting rich, but certainly we opened some eyes.
Through my enigmatic best friend Not Vital, whom I had met in Rome in 1973, I eventually encountered an 85-year-old retired art-museum director living near his tiny Swiss village. His name was Max Huggler.
Max had once knocked on the door of Edvard Munch to ask him to exhibit at his Kunsthaller in Berne. By chance, Max shared my first visit to Emil's grand, industrial studio.
So there we stood, The Three. Max — thin, hunched, Giacometti-like — next to Emil — tall, gangly, big feet — and me, Mendelson, as always, impractical, probably wearing a foulard.
I'd like to think we grew together. I know we are friends.
For years, Emil continued making impractical sculptures, some too tiny and delicate to touch, others so large they couldn't fit through the gallery door. The largest, left outdoors, might crumble after a few difficult Pittsburgh winters.
But people were drawn to them. They trusted us. And they were right to.
When Not Vital, more established at the time, was visiting for one of his exhibitions, he needed help creating a project. Emil was so sensitive to his materials and needs that he ultimately became his assistant. They moved between New York, Switzerland and Italy, always pushing production ideas, learning from one another.
From Swissvale/Braddock, Emil became a world traveler.
From student to teacher, husband to Claire, father to Jack and Faye and Jane, Emil has never lost his will to observe, to experiment, to create.
His father and his father before him owned Lukas Bar and Grill in Braddock, just up the hill from the Edgar Thomson Works' gate to the spewing mills, the glowering furnaces, the continuous shifts. The clientele often needed a boilermaker or a quick pick-me-up from a jar on the bar (pickled pig's feet, sausages or boiled eggs in vinegar). From standing, his father's feet had spread out even larger than Emil's.
My roots are further up that same polluted river, in McKeesport. We viewed the same explosive sulfur-dioxide sunsets, drank the same metal-tinged water, and breathed the same orange-gray soupy air on inversion days.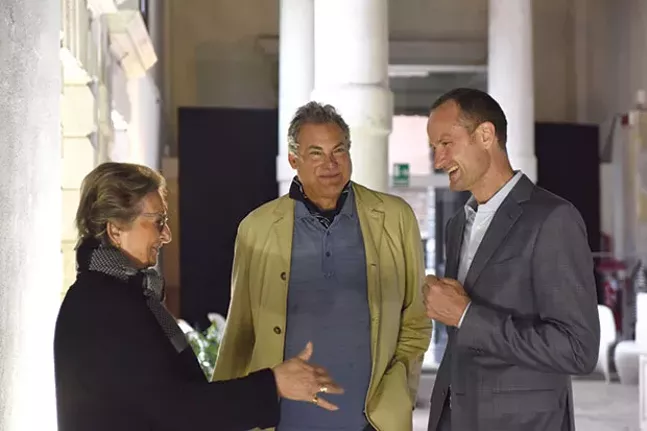 And here we are today, celebrating a grand opening of his iconic work in a palazzo on the Grand Canal of Venice during the 57th Biennale. (Opening in Venice during the Biennale is a big deal, even if the work's not in the Biennale.)
The sincerity and integrity of Emil's art has never wavered in details, delicacy or dedication. He remains a modern alchemist, exploring permutations and properties of materials.
From my first tiny gallery, he has reached out to thousands through his many exhibitions around the world.
The exhibit at the Palazzo Flangini is up through August and exhibits "Lens," a sculpture of 650 aluminum pipes that move with the viewer according to his or her position. We hope to place one in East Liberty.
Emil, who now lives in northeastern Pennsylvania, also exhibits intricate string paintings and puddle works. The pieces need to be seen in person to really resonate.
Emil is represented by galleries in New York, San Francisco, Verona, Italy, and of course, by Mendelson in Pittsburgh.
He is in many major collections and has had numerous one-man shows across Europe and the United States.
Like Pittsburgh, he continues to emerge from his past into an ever-expanding future.