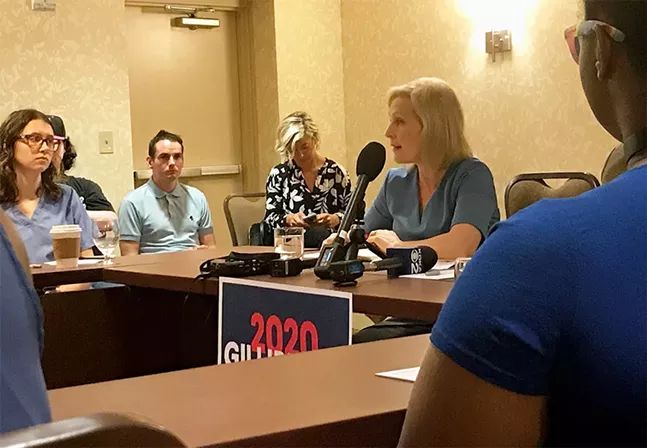 The first anti-Trump campaign ad of the 2020 presidential cycle is on Pittsburgh televisions now.
The 30-second spot was produced by the presidential campaign of U.S. Sen. Kirsten Gillibrand (D-New York), but her face isn't shown until the end. Instead, the ad highlights the "broken promises" President
Donald Trump
made on the campaign trail in 2016: expanded infrastructure, the return of manufacturing jobs, and lower drug prices.
Gillibrand's campaign is targeting Rust Belt voters with the ad as her campaign passes through Pennsylvania, Ohio, and Michigan on a two-day "Trump's Broken Promises" tour.
In Pittsburgh on Thursday morning, the first stop on the tour, Gillibrand sat at a roundtable with local health-care workers who recounted their experiences obtaining health care, often with difficulty and at great cost, in the system within which they work.
In her responses to the workers, Gillibrand highlighted her support for a Medicare for All system and Gillibrand's planned prescription drug price policy, which would involve the creation of a "drug czar" position to investigate and audit the business practices of the
pharmaceutical industry
.
But policy wasn't Gillibrand's only focus. She made it clear at the event just how anti-Trump she is, including explicit criticizing of the president, often referring to him by name. According to statistics site
FiveThirtyEight
, Gillibrand has the strongest anti-Trump voting record of any member in the U.S. Senate.
While the Pittsburgh event focused on health care and drug prices, Gillibrand touched on other themes from her "Broken Promises" tour as well, an interesting strategy in Pittsburgh, as many regional Democrats are
reluctant to criticize Trump directly
, as he remains popular in the counties outside of Allegheny.
That drug prices would go down
Drug prices in the U.S. continue to increase, despite Trump's campaign pledge that he would lower them — and his more recent claims that he's been successful.
"I can't tell you how many patients have told me their personal story about how they're going bankrupt because they can't afford their prescription drugs," Gillibrand said at the roundtable.
She told a story she said she'd heard from an advocate about an older man who needed cancer medication that cost $5,000 a month and made the decision to forego medical care instead of depleting his family's savings.
"Those are the real life and death decisions families are making," Gillibrand said. "As president, I will lower prescription drug prices."
That Trump would bring American jobs back
Gillibrand claimed that by the end of her first term as president, 100 percent of federal contracting jobs would be American jobs. Today, she said, it's less than 50 percent, proving that Trump hasn't fulfilled his promise to bring jobs back to American workers. Nearby
Youngstown, Ohio
has been particularly hard hit, losing its Chevrolet plant, and continuing its decades long decline throughout Trump's presidency.
"He lied to Pennsylvania workers and gave the impression that he had their back in this economy. He's done nothing to help these workers," Gillibrand said. "He's sided with multinational companies over workers every time. His administration has fought against unions. He has not taken on companies that are sending jobs overseas."
"You're gonna get so tired of winning"
Gillibrand referenced a famous Trump campaign trail promise that under his administration, America would win so much "at every level" — in the economy, in the military, with health care — that Americans would grow tired of winning.
"Are we tired of winning?" Gillibrand asked. "No, we're not, because he's not doing the things he promised to do."
The question of whether Gillibrand's own presidential campaign has a shot at winning is its own story. As her supporters like to remind people, Gillibrand has never lost an election. She was elected to the U.S. House of Representatives in 2006 and to the Senate in 2008, winning reelection in 2014 with 72 percent of the vote.
Her presidential campaign, on the other hand, has struggled since the beginning, likely weighed down by Gillibrand's early call in 2017 for Sen. Al Franken (D-Minn.) to resign after sexual harassment allegations. Gillibrand is currently polling at an average of 0.3 percent in the Democratic primary field, the same as author and spiritual guru Marianne Williamson.
After the campaign event, a reporter asked Gillibrand if there was a danger in focusing on Trump and going too negative. Gillibrand answered quickly: "No."
"President Trump has lied to the American people, and the American people have a right to know that he's broken his promises and that they need a president who's brave enough to do what's right," Gillibrand said.