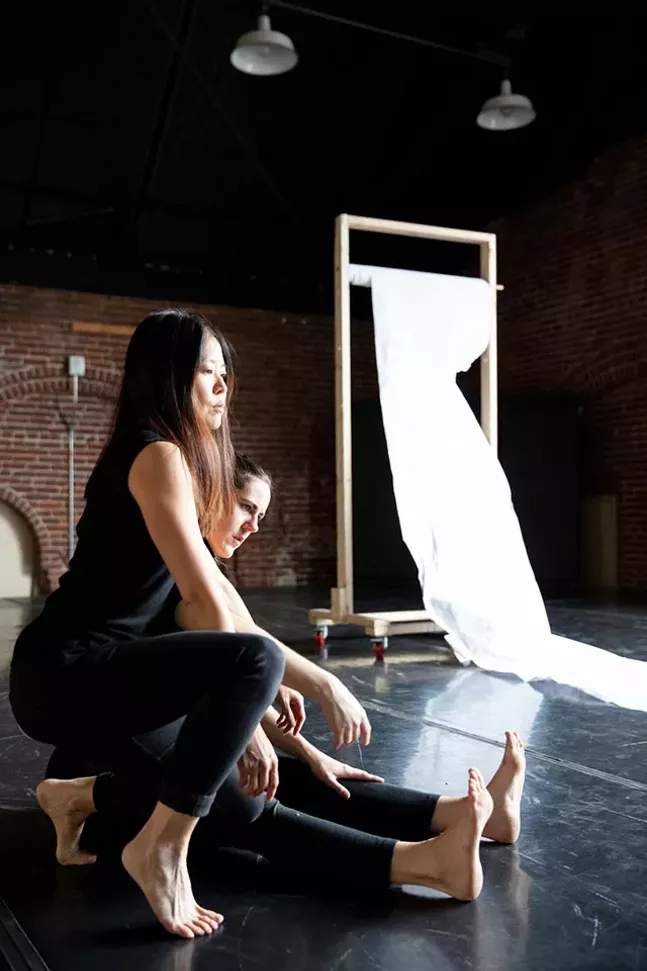 The changing landscape of human correspondence and communication has provided fertile material for dance makers in recent years. Locally, The Pillow Projects' Paper Memory (2010) and CorningWorks' Parallel Lives (2014) were but a few that addressed such issues.
Now dancer/choreographer Maree ReMalia, New York multimedia artist Gigi Gatewood, and Washington, D.C., dancer Lillian Cho bring a unique take on the topic in A Letter Compiled From All Letters, June 13-15 at New Hazlett Theater.
As the director of the hour-long dance-theater work, ReMalia is a familiar face on the Pittsburgh dance scene as a performer or producing works for her project-based company, merrygogo. Born in South Korea and raised in Medina, Ohio, ReMalia's dance career has, like the communication mediums A Letter Compiled From All Letters touches on, shifted over her career. She began as a ballet dancer apprenticing with Richmond Ballet and Southern Ballet Theatre in the mid to late 1990s but then switched to dancing and choreographing in modern and contemporary dance forms including Ohad Naharin's "Gaga" movement language.
"The philosophy behind those practices was so different than ballet and was liberating," says ReMalia. "They invited dancers to value and find their own voice."
Since then, ReMalia has done that. As of late, she says her focus has been in meshing her voice with others and valuing what those collaborations can bring.
A Letter Compiled From All Letters is an example of such collaborations across artistic disciplines. In addition to working with creative team members — Natalia Gomez who envisioned the work's mobile, wooden set, costume designer Emily Vallozzi, and lighting designer Forrest Trimble — the performers in the seven-member cast have also collaborated in other ways including David Bernabo who developed the work's video projection design with Gatewood and contributed original music. Moriah Ella Mason created original text and Joseph Hall (N.Y.) and Jil Stifel will vocalize during the performance.
An adjunct dance teacher at Point Park University, ReMalia has lived and/or worked in Ohio, New York, Washington, D.C., and most recently Vermont. Those experiences plus her 15-year, sometimes long-distance relationship with partner Isaac Kriley have also played a role in ReMalia's thought process in choreographing A Letter Compiled From All Letters that considers connections and communication in a digital age and what the trio of creators see as "the blurring of what is actual versus virtual." Part of their creative research for the work involved having friends and acquaintances write and send them letters to compare and contrast with our ubiquitous digital communication methods. And while that research informed the work, ReMalia says the piece does not pass judgment on the various communication forms, but is more an acknowledgment of how things have changed in their lifetimes.