The Heinz Architectural Center opened 20 years ago. I worked there two summers as a graduate-student intern helping to prepare for its opening, and I remember wishing it were a free-standing building, instead of the complex of interior spaces that it occupies within the Carnegie Museum of Art. 
From the Parthenon and Chartres cathedral to Fallingwater and the Guggenheim Museum in Bilbao, we frequently understand brilliant works based largely on their iconic sculptural image. Even if we talk about space as the essential quality of architecture, a dramatic sculptural form is usually necessary to, say, get on a magazine cover.
But now that HAC is marking its 20th anniversary with a celebratory exhibition, 20/20: Celebrating Two Decades of the Heinz Architectural Center, I am not so concerned about such outside appearances. 
Founded as a gift from Drue Heinz to honor the interest that her late husband, Henry J. Heinz II, had in architecture, the HAC has a mission: showing artifacts and interpretations of great works in order to encourage broader appreciation of the builder's art. 
The HAC complex itself was designed by New York-based architects Cicognani Kalla in a restrained postmodern style that makes more sense as an old space than a new one. With ochre-colored plaster walls (as well as red and blue in a few places), fabric display surfaces, and coved ceilings, it is organized around a dramatic, skylit, multi-story central corridor which visitors enter from the Hall of Sculpture. The space recalls, at least generally, the London home and museum of John Soane, an 18th- and 19th-century British architect and collector. 
Soane's Museum, belying its restrained façade, is packed with the architectural fragments, casts and other artifacts that the architect collected during his career. Rooms articulated in his presciently and elegantly streamlined version of classical architecture provide a foil for the many objects. The pieces give the sense that visitors are peering not so much into Soane's house as into his mind.
HAC is a similarly cerebral volume, as the 20/20 exhibition reminds us. Just as the architects' desire to evoke some great historical spaces of collecting is apparent, so too have the curators revealed their minds through the objects displayed in this show.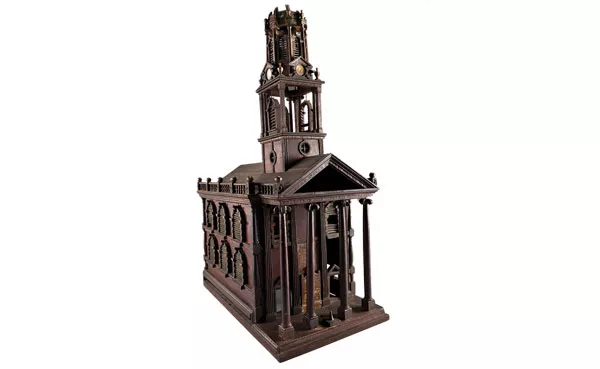 A favorite section in the galleries is where individual sketches, perspectives and models from the collection are on display, along with comments from current and past curators about the significance of each.
Curator Tracy Myers selects a drawing by Felix Duban that shows the modified triumphal arch at the entrance to the Ecole des Beaux Arts on the Rue Bonaparte, in Paris. A better-known view of this arch looks toward the school, with Duban's Palais des Etudes building in the background. This view, instead, looks away from the school and back toward the street — peering out, rather than in.
The distinction, which is subtle in the choice of the drawing, reflects an important quality of the 20th-anniversary celebration as a whole. Both put a noteworthy emphasis on the perspective of looking outward. I for one would be perfectly happy with an endless succession of internalized, cerebral ruminations on architecture. But HAC cultivates a broader view, and it has worked through the years to turn that view around, seeking not simply to look back out, but also to bring people in as part of the process. Early exhibitions on Pittsburgh neighborhoods of Manchester and Oakland reflected this emphasis, as have exhibitions on barns and Pittsburgh architecture — subjects that have leaned on and drawn from the audience's expertise.
Accordingly, 20/20 features a short film in which a variety of Pittsburghers talk about their favorite experiences in local buildings, from Larry Glasco in Schenley Farms to Chris Gmiter in the East Liberty Library to Edna Council at her home in the Hill District. Correspondingly, visitors to the museum are invited to write down and submit their own experiences of buildings that are important in their lives.
The face of architecture is not the one that buildings present to the world, but rather the many faces a place attracts, so they can participate in the dialogues of the discipline.