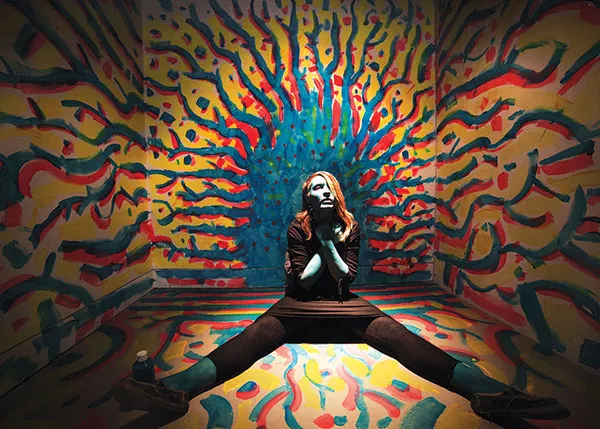 The natural landscape has inspired artists for centuries, but the industrial landscape has provided equally compelling subject matter. Influenced by the built environment, artists depict both the new and the decrepit with a mixture of awe and critical judgment.
The rich history and forlorn decay of the Rust Belt provides fodder for Jake Beckman. He grew up in the Cleveland area, and the vestiges of industry clearly made an impression. His work is made with wood beams, coal, sand, plaster and flooring — the raw ingredients of buildings — as a study of constructed spaces and environmental resources. Titled Small Pieces Tied to Something Bigger, the seven works shown together in one gallery convey a sense of bemused melancholy.
Beckman's work occupies one of three second-floor rooms at Pittsburgh Center for the Arts. Each room contains the work of one artist as part of an exchange with Philadelphia's Center for Emerging Visual Artists. While each show stands alone, Beckman's creates a sort of ballast for them.
Beckman is interested in the processes of extraction, construction and decay, but he's also clearly fascinated with the malleability of organic forms. In his hands, what appears to be solid becomes fleshy and imperfect. In "Sag II," the middle section of the gallery wall droops like a skin-fold; on the opposite wall, a wooden beam rests on the floor while its opposite end sinks into the wall. By suggesting impermanence, Beckman reminds us that we are all intimately connected to a larger ecology.
The same fantastical, cartoony and visceral sensibility is apparent in BETWIXT and BETWEEN — Liminal Objects, by Jeanne Jaffe. Like Beckman, Jaffe mixes sculptural objects and prints to explore tangibility. A limbless torso dangles amidst teardrop shapes; bulbous, vaguely organic pods sprout hair and fleshy protrusions. On a small screen, a short animation appears to abbreviate the birth process from its cellular level through a surreal journey traversing the four classical elements of earth, water, fire and air.
A similar corporeal malleability informs Jennie Thwing's short video My Black Hole. Just as Beckman and Jaffe grapple with the contradictions inherent in human experience, Thwing explores the machinations of the creative process by recreating her dreams and personal mythologies in her studio. Ultimately, each artist uses the body and/or its surrogates to explore the contradictions inherent in human endeavors.