Is your dial always pre-set to talk radio? Always asking how you can make a difference in the world? Are you just hungry for some learning? Peruse our curated list of educational, volunteer, and social-justice events this week in Pittsburgh.

---
Pittsburgh City Council District 1:
Candidate Forum
7-8:30 p.m. Tue., Oct. 15.
Pittsburgh UNITED, 841 California Ave., Suite 3, North Side. Free.

Longterm District 1 Pittsburgh City Councilperson Darlene Harris (D-North Side) was ousted in a surprise win earlier this year by Democratic challenger Bobby Wilson in the city's
primary election
this spring. Now, Wilson is joined in the race by two other contenders: Independent candidate Chris Rosselot and Malcolm Jarrett, of the Socialist Workers Party. All three face off tonight in a candidate forum co-sponsored by Pittsburgh UNITED, the League of Women Voters of Greater Pittsburgh, and the Black Political Empowerment Project.
---
Media Innovators Speakers Series:
Quil Lawrence
7 p.m. Thu., Oct. 17. Highmark Theatre at Pittsburgh Playhouse,
350 Forbes Ave., Downtown. $15-25.
Hear from award-winning journalist Quil Lawrence on his career spent covering veterans' issues across the globe, including stories of female combat veterans. Lawrence also spent 12 years covering Iraq and Afghanistan as NPR News' Bureau Chief in Baghdad and Kabul. He comes to Point Park University as part of its Media Innovators Speakers Series.
---
City Rising: Housing Justice Film Screening
6-8 p.m. Thu., Oct. 17. Homestead Grays Room, Allegheny County Department of Human Services, 1 Smithfield St., Downtown. Free.
As cities grow, so often do concerns of gentrification, the act of redevelopment bringing in more affluent residents, typically at the cost of displacing low-income people. Pittsburgh is the eighth most gentrified city in America, according to a
recent study
from the National Community Reinvestment Coalition. Join nonprofit community coalition
Pittsburgh UNITED
for a free film screening of
City Rises
, a documentary that looks into the economic role and social consequences of gentrification.
---
Responding to Reality:
What is White Supremacy?
6-9 p.m. Thu., Oct. 17. Kaufmann Lecture Hall, 1825 Centre Ave., Hill District.

What is white supremacy? The
University of Pittsburgh Center for Urban Education
invites the public to partake in the discussion as Pitt law professor Gerald Dickinson moderates a town hall on "perspectives on education nation-state, and the public good." Panelists include
CP
columnist
Tereneh Idia
and activist
Jasiri X
, along with T. Elon Dancy II, Ph.D., Dana Thompson Dorsey, Ph.D., Waverly Duck, Ph.D., and Lauren Bairnsfather, Ph.D.
---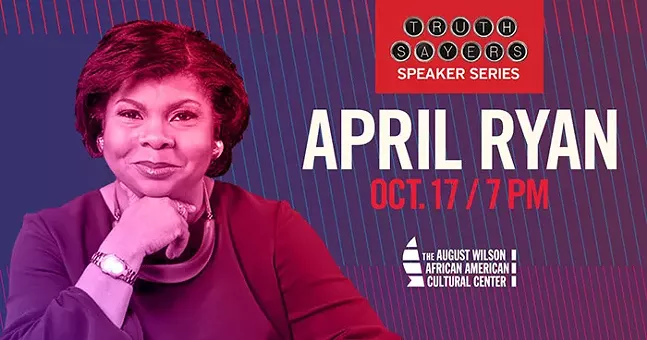 TRUTHSayers: April Ryan
7 p.m. Thu., Oct. 17. August Wilson African American Cultural Center,
980 Liberty Ave., Downtown. $42.50.

White House correspondent and political analyst April Ryan has been covering politics and urban issues in our nation's capital for decades. She brings her experience and intellect to the August Wilson African American Cultural Center for a lecture as part of the organizations' TRUTHSayers speaker series.
---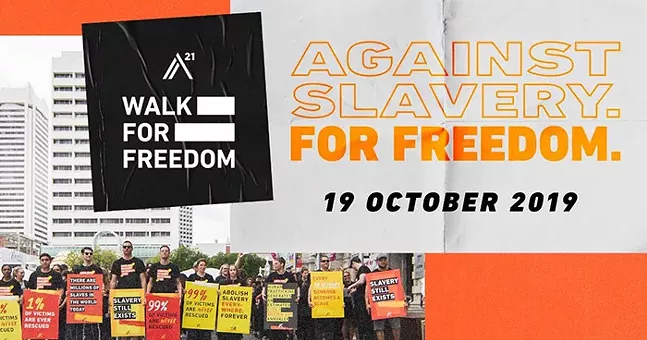 Walk for Freedom 2019
9 a.m. Sat., Oct. 19. Station Square Parking Lot East,
160 E. Station Square Drive, South Side.
Advocates will walk in single-file lines in cities across the country, handing out flyers and bringing awareness to the dangers of human trafficking. "It's our way of telling the world that slavery still exists and that it will never be OK — not on our watch," event organizers say. "It's local and it's global." Supporters without Walk for Freedom shirts are encouraged to wear all black clothing. Register on site by 8 a.m.
---
Blountly Speaking: Lifting Up Women in Prison
12-3 p.m. Sat., Oct. 19. BOOM Concepts, 5139 Penn Ave., Garfield.
Free with registration.
After serving 35 years in prison, sentenced to life without the possibility of parole, Naomi Blount became the second Pennsylvania woman in nearly three decades to receive commutation and be released. Blount speaks at
BOOM Concepts
, followed by a panel including Allegheny District Attorney Candidate
Lisa Middleman
, speaking on how people in the criminal justice system have been impacted by the DA's office.
---
Global Links, a medical relief and development organization, rescues an average of 300 tons of still-valuable surplus medical supplies every year. Join the organization at its Volunteer Service Center in Green Tree as medical supplies are packed, sorted, and shipped to developing countries. Click
here
for more information on how you can sign up to volunteer.
---
Do you have an event you'd like to share?
Email us
for your chance to be included in next week's round-up.