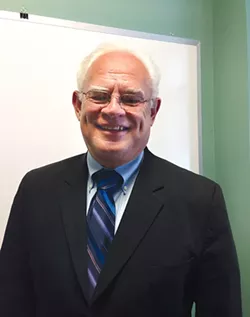 He was born in what's now McCandless, but even as the head for a decade of the National Wildlife Federation, Larry Schweiger still made his home less than two miles from where he grew up. Now, the nationally known environmentalist, author (Last Chance: Preserving Life on Earth) and former president and CEO of the Western Pennsylania Conservancy is again working in his home state: Last week he was named president and CEO of Citizen's for Pennsylvania's Future (Penn Future), one of the commonwealth's busiest green groups.
Schweiger spoke with City Paper by phone about the role Pennsylvania can play in fighting climate change.
You're identified with wildlife conservation. What will you focus on at Penn Future?
The energy policies are going to be the trump card for all of the impacts that wildlife experience. The science of wildlife is becoming painfully clear: If we don't change our energy practice, we're going to alter the context for all of nature, and that's going to have an enormous impact on not only wildlife, but what happens to our world, to our children and our grandchildren.
What's Pennsylvania's role?
We have a long history of producing and emitting carbon. As such, Pennsylvania now needs to be a leader in the transformation that's occurring, and needs to occur, toward clean energy. That's going to be a great challenge, and it includes everything from sustainable communities and green buildings [to] creating new energy sources; it includes changing public policies to encourage and incentivize clean energy.
Right now the debate over putting a tax on natural gas is an important one. It really defines who's gonna be driving our public policy. Is it the gas industry and its advertising blitz that shapes the fact that they don't pay taxes in Pennsylvania like they do in other major producing states?
Some environmentalists favor a moratorium on fracking for natural gas.
I've been characterized by the industry as being anti-fracking, [but] I think it's more I'm opposed to fracking done without the most careful standards. There's a lot of work to be done to make sure that gas is a responsible citizen in Pennsylvania and does in fact protect its neighbors.
What about Pennsylvania's response to the U.S. Environmental Protection Agency's Clean Power Plan, to cut carbon emissions?
Pennsylvania has an opportunity to be either a victim of change or a catalyst for change. I think the fact that the EPA rules really move the carbon debate back to the state level is both an opportunity and it's also a challenge. And I think Pennsylvania, of all the coal-producing states, has the best opportunity to come up with a plan to accomplish the targets that are required by EPA.
Why's that?
If you look at the leadership that's in the governor's office, and the leadership in the [state Department of Environmental Protection], we have some really well-informed and smart people who know how to solve problems.
How should we move toward cleaner energy?
I'm really agnostic about the way we get this done. I just want to get it done. People debate, for example, do we want to have a carbon tax or a cap-and-trade? Do we want to have a portfolio standard, or do we want to do what the Germans have done [to incentivize development of renewable energy]? I'm willing to entertain anything that will pass in the Pennsylvania legislature that will actually get the job done.
How would you sway a Republican-dominated legislature?
I think it's a matter of educating people on the fact that we are walking into a very dangerous future for our children. And helping those who care about the future, care about others, to get involved. And I think that crosses the political divide. In my view, it's a matter of building those relationships and helping people understand that this is not a left-wing political agenda. This is about dealing with a serious threat that will grow even more alarming in the days ahead.