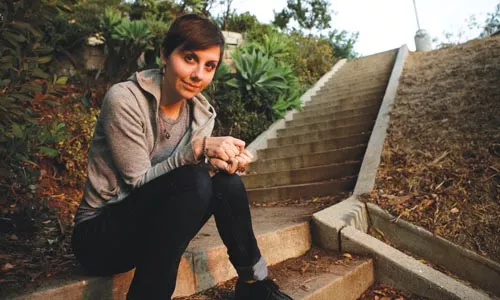 Now a prominent music critic, Jessica Hopper started out playing in bands and working behind the scenes when she was just 15 -- and remembers just how hard it was. In her new book, The Girls' Guide to Rocking (Workman), she describes sitting "in a basement room for a half hour watching a very frustrated, ancient dude try to teach me ... a song I didn't know, and didn't want to know, from an era of music I hated." Instead of guitar-store "Smoke on the Water" lessons, Hopper offers a straightforward, encouraging roadmap for girls who want to rock on their own terms. Learning to play, starting a band, recording, touring, and the business aspects of music are all broken down into easy-to-read yet detailed sections (she makes it seem so simple!). Most important, perhaps, are the quotes from successful female musicians, and the copious photos of them rocking out -- positive reinforcements that say, "It can be done!" Hopper will read at Garfield Artworks on Fri., Aug. 21 (a show organized by CP contributor Manny Theiner).
Your book is intended for girls ages 10-16 -- how did you get yourself back into that headspace?
It changes everything once you start writing for teen-agers, because all the givens of being an adult in a band are out the window. You probably don't have a practice space. If you have any money, you don't have very much, and it's probably not your own to begin with. You can't drive. And a lot of your time is not your own to decide what to do with. Once you take out all these adult givens, it kinda put me almost automatically back into who I was at 15. I guess the more simple answer is that I was the girl who so desperately needed this book at 15, 16.
So, a lot of it was finding out what kinds of resources they do have?
Yeah, basically. I really wanted to span the gamut, because I don't know if a girl's buying this book in a Target in Missouri, or if she's buying it and she lives in Manhattan in a totally crammed little apartment with her parents.
There are tons of barriers between being a music super-fan and being in a band yourself -- what is the most significant barrier for young girls?
There's basically two things. One is that they can't find anybody to play with, and they are the only girl they know who loves music as much as they do or [who has] an instrument. The other thing, and this was my obstacle too when I was a certain age, is self-confidence, and the idea that you have to be a really good musician before you can start a band. You don't have to "wait until you're good."
A lot of your tips -- how to record with GarageBand, how to choose an instrument -- would be useful to any aspiring musician. To play devil's advocate, isn't a bass guitar a bass guitar whether you're a boy or a girl?
The joke is, "and this book works for boys, too!" There's so little information here that is specific to girls, but obviously the book is tailored to give girls that extra push. My favorite part of the book is that big pull-out timeline ["A Superstar Century in the Sisterhood of Rock 'n' Roll"] that you can put yourself on -- because I want girls to see that they're part of something. The way has been paved a little. Overall, you could pretty much change the cover and have a perfectly decent book for boys. Might be a little feminist-leaning for your average 11-year-old little dude.
What young female musicians are you listening to these days?
Marissa Paternoster -- I pretty much mention her in every interview, but I think she's kinda the future of rock. She plays guitar in the Screaming Females ... she's just got that sort of magical rock-star glow. I think St. Vincent is great, and she's somebody who grew up stalking riot grrrl forums on the Internet at 14, 15, as she was learning. I could go on all day -- especially because right now, people are like, "You have a book for young girls in bands? Here's the four young-girl bands in my town that are super-killer!"
I imagine so!
I feel like I'm meeting the future generation of rock. I'm not saying that to be hyperbolic -- these girls have gone to [a Girls Rock Camp] for two years, and before that they've taken drum lessons for four years. Oh my god, by the time they're 20, they'll have been playing for 10 years. After they come along, there is going to be no "pretty good for a girl."
Jessica Hopper reads from The Girls' Guide to Rocking, with performances by Katie Stelmanis, Ghost Bees and Rock Rifle. 6:30 p.m. Fri., Aug. 21. Garfield Artworks, 4931 Penn Ave., Garfield. $7. All ages. 412-361-2262 or www.garfieldartworks.com