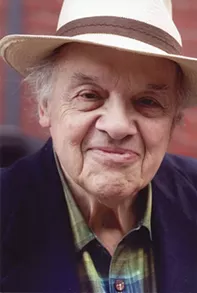 Talking to Gerald Stern is like talking to your favorite teacher from high school. He is opinionated, passionate, humorous and exceedingly gracious. He is also a storyteller, and in the 75 minutes of our scheduled 20-minute interview, I felt guilty about interjecting questions, as I did not want to interrupt the flow of his narrative.
Pittsburgh native Stern, an internationally acclaimed poet and National Book Award-winner, visits Oct. 13 to celebrate the opening of his papers at the University of Pittsburgh, and to read at the Carnegie Lecture Hall.
Born in 1925 in the Hill, or what he said was then called "Jew Town," Stern speaks of his childhood not with nostalgia, but with a gruff realism, describing the anti-Semitism and violence that confronted him daily. "My father would turn the light on after I had fallen asleep to see if there was blood on my face."
The future literary giant attended Allderdice High School, where the only advice given him, "Don't even try to go to college. You could never pass freshman English."
Fortunately, Stern persisted, and offers this advice to any writer: "I thought my job was to read, read, read. When I did workshops, I would say to students, 'Your primary job is to read, and occasionally write.'"
Stern graduated from Pitt, received his master's degree from Columbia, and then taught. Critics have called him a late bloomer — he did not receive widespread recognition until his 50s — but he bristles at this categorization. He cites the first books of several well-known poets that were "terrible," and says, "I was always writing. I finally published, if you will, what was my third book."
Stern's work is often described as lyric and eclectic. "I allow myself to say anything I want to say," he says. "As long as it deals with reality. What the philosophers are after. The thing. The thing."
Still active at age 90, he cannot help poking fun at the current generation of students. "I was talking to a young woman. She said, 'I wrote a poem this summer.' My God, I've written 20 poems! I write every day. It's my greatest pleasure."
Stern, a New Jersey resident, is working on a new book. He sounds as excited as someone about to publish, finally, his first.