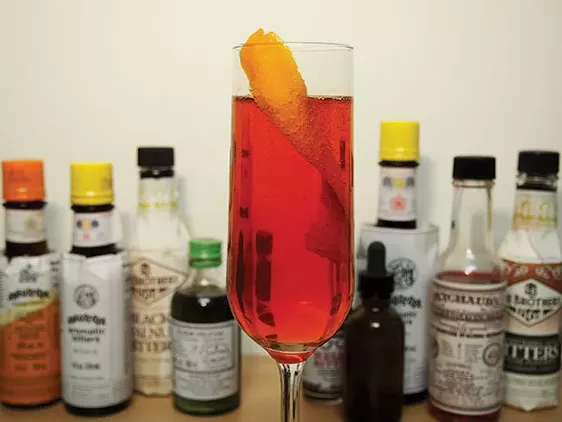 At every bar I've worked, we've kept an array of bitters on the bar, ready to grab for dashing into Manhattans and Sazeracs. This inevitably leads to guests rifling through the bottles, sometimes mistaking them for condiments. And though they'd probably regret dumping Angostura bitters on their French fries, the instinct is not far off. The bitters box is indeed "the bartender's spice rack": Applied the way a chef uses salt, bitters have the power to heighten, deepen and round out a variety of classic and modern cocktails.
Like so many potables, bitters began as medicine. For centuries, people have infused herbs, barks and botanicals into high-proof alcohol to make tinctures for various ailments. In 19th-century America, medicinal bitters took off, with dubious entrepreneurs across the country marketing varieties that could cure everything from rheumatism to "liver complaint." Of course, soon folks were also mixing them with spirits. A simple combination of whiskey, sugar, water and bitters gave us a cocktail we still know and love — the old-fashioned.
Many bitters companies dried up with Prohibition and, for much of the 20th century, the distinctive yellow cap and oversized label of the Angostura bottle stood alone on the backbar. But with the modern cocktail renaissance, bartenders began to demand a broader array of bitters. Today, hundreds of varieties are readily available, from classics like orange to more exotic offerings (Jamaican jerk, anyone?). And since bitters are classified as "non-potable" (the government assumes that you won't get sauced off bitters alone), they can be bought from grocery stores and online retailers.
Modern cocktail bars boast dozens of house-made and commercial bitters. Your home collection needn't be so ambitious. Angostura bitters are as indispensable as ever, and their robust aromas of backing spice play beautifully with aged spirits. Peychaud's, a vibrant red bitters that boasts notes of anise, are critical for Sazeracs and other classic cocktails.
If those two bottles ignite the bitters fever, start exploring! Orange and grapefruit are nice to have on hand, and I am especially fond of Fee Brothers Whiskey Barrel-Aged Bitters. Locally, Wigle Whiskey makes a line of bitters, including a mole version that bursts with cocoa and toasty chiles.
I'll leave you with a recipe that puts those new bottles to good use. The Seelbach has a lovely backstory about a clumsy pre-Prohibition bartender who accidently spilled Champagne into a Manhattan. Recently, it was revealed that the drink (along with the story) was actually invented in the 1990s, by bartender Adam Seger. Regardless, the Seelbach is a bubbly, bitters-laden delight.
The Seelbach

1 oz. bourbon
¾ oz. Cointreau
7 dashes Angostura bitters
7 dashes Peychaud's bitters
Sparkling white wine
Stir first four ingredients with ice until chilled. Strain into a Champagne flute. Top with sparkling wine. Garnish with an orange twist.