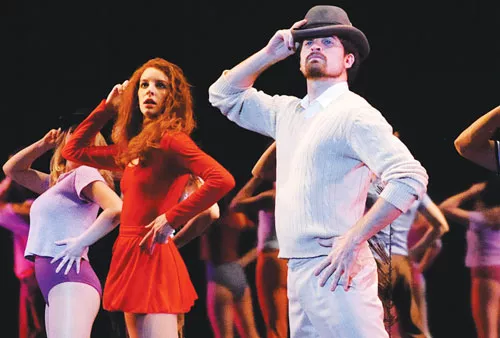 My eyesight may be going and the wrinkles keep growing … but it never occurred to me how old I really am until I was watching the Point Park Conservatory Theatre's production of A Chorus Line, and realized that the show debuted on Broadway 36 years ago.
As Hair sums up the '60s, Rent the '90's and Wicked the '00s, A Chorus Line brings back the '70s faster than a mirror ball, Nixon and the Loud Family. And at 14, I bought the cast recording … on 8-track!
Michael Bennett's original production, with a book by James Kirkwood and Nicholas Dante, music by Marvin Hamlisch and lyrics by Edward Kleban, won the Tony and Pulitzer prizes and has since toured the world.
Not bad for what seems a simple show: We sit in on the dance audition for a new Broadway musical. It's more than a regular audition, however -- the director wants the performers to talk about their lives as well.
But Chorus Line isn't really that simple. It's about the struggles of growing up, finding courage and pursuing a dream that can only ever disfigure you (physically and emotionally).
A big part of the enjoyment I had at the Point Park production was watching these students confront the challenge of this work about the challenges dancers face. Director/choreographer Danny Herman (a Chorus Line and Michael Bennett veteran) pushes his cast into the world of the show and informs the production with subtle, understated texture.
Congratulations go out to the whole ensemble. And let me say that Andrea Weinzierl, playing Shelia, has the funniest role and doesn't miss a beat. Jordan P. Haskins is no slouch when it comes to comedy, either. Brandon Taylor's a gymnastic marvel on "I Can Do That," and Nicole Soriano's turn with "Dance: Ten; Looks: Three" is a three-act play all by itself. And a big hand to Jessica Ruane for her powerhouse "Nothing."
The downside to Chorus Line is the thankfully infrequent traditional "plot" scenes … which, to me, have always felt grafted on. But as Zach, Cassie and Paul (the characters saddled with these moments), Tyler Scherer, Lily Davis and Jerreme Rodriguez bring a great deal of life to this entertaining production.
A Chorus Line continues through Sun., Oct. 30. Pittsburgh Playhouse, 222 Craft Ave., Oakland. 412-621-4445 or www.pittsburghplayhouse.com