Mumford & Sons returns to Pittsburgh on Thursday with new music, a new stage, and a whole lot of love in their hearts.

The last time the four-member British group released a full studio album was 2015. The album, Wilder Mind, received much criticism for the band's move from folk to arena-shaking rock. But that didn't stop Mumford & Sons from again shifting their sound on their fourth studio album, Delta, which dropped in November and hit number one on Billboard shortly after. The newest album is pop-leaning, but the themes encompassing Delta are true to Mumford & Sons' origin. Songs deal with love, loss, and sacrifice.
Ahead of their Pittsburgh tour stop, Pittsburgh City Paper chatted with banjoist and lead guitarist, Winston Marshall, about fans, the tour, and Delta.
This interview has been edited and condensed for clarity.

You're currently on the biggest tour that Mumford & Sons has done to date, how has it been going so far?

It has been quite lovely. Thank you. We started in Autumn, and I guess the big difference is that we are touring with a stage in the middle of the room as opposed to at one end, which means that the audience is all around us … above us, below us, behind us, in front of us, and it's kind of like a different sport, really. It's not something I was used to. So, you're getting a different Mumford & Sons in 2019.
On top of that, we made an album that we both love and are proud of and we really enjoy playing those new songs.
I'm sure. I read that you guys spent the majority of 2018 working on the new album, Delta. How does it feel to be performing it in front of an audience finally?

It feels, on the one hand, a huge relief because it's been so long. And on the other hand, very pleasurable. We're pleased to play the new songs; we've been writing for song long now that it's very exciting for us. And actually, we haven't worked out all of them from the last show yet so every tour, every gig there's new stuff. Playing songs that we haven't played very often keeps you on your toes.
What songs have you been throwing back into the mix?

We try to get a healthy combo of songs from all our albums. That's because we're very proud of each of our albums. But also, because, it's a really odd phenomenon, but some people come to a show, and they love one album, know one album. I've met people that only know one album, and haven't listened to the three other albums. We've got an array of people coming; we want to show off all our [music]. We want people to enjoy the night, but it also makes for a good mix, a good variety.
That's the benefit of being a band for a long time that you don't get straight away when you've only got [one] album because you only have 10-15 songs. But we're 10 years in, and we've got 50-70 songs you can play. It's nice to get the variety.
Do you have certain go-to songs that you always play?

We definitely almost always play the hits. The songs that have been radio singles, because people like that shit, and we're lucky to have had songs that resonate, and we won't take that for granted. And we're proud of those songs as well, so we'll always try and play those ones.
Then we rotate a bunch of songs not only from our new record but old stuff. Sometimes songs, you forget about, and then you're reminded of, or someone remembers, and you put them back in and it feels like a whole new song again if you haven't played it for a few years. A few years in the life of a band isn't even that long after a while, but that happens, and you get to revisit old songs and re-imagine them. We've been doing that a bit.
So there was some apprehension before releasing Delta because it's more experimental than your previous work, what did it feel like when the album went number one on Billboard?

That's a difficult question to answer because it's pretty remarkable. It's not even something I necessarily think is an achievement that is in someone's hands. When I say it's remarkable, I don't mean we're remarkable, what I mean is that it's just amazing that it happened. I'm bloody grateful for a start. We see every night how many faces are in the crowd. People come back. We've got really exceptional fans, and that's what you think of when you see that.
When people buy the album the first week, they haven't heard the album. They don't know what it sounds like. They're fans, they buy it because they're excited to hear it, based on the previous stuff [we've] done. That's what it is; it's the best convincement, involved with a lot of good people.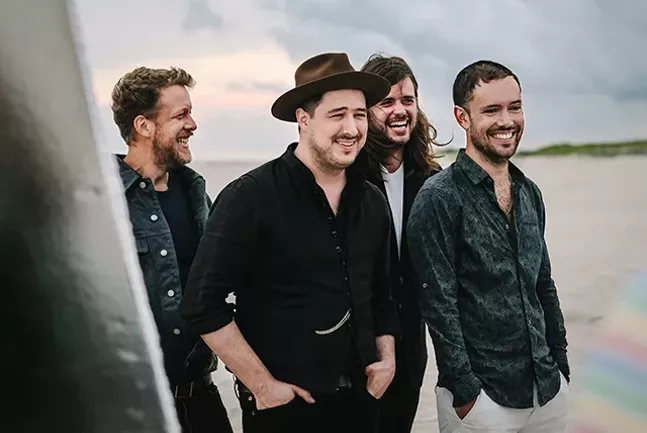 How does it feel as an artist to do what you want creatively and still have this fanbase?
That's a good question. Well, there's a responsibility there. A responsibility to honor that dedication from the fans. Which transpires kind of, in an obvious way. That means what kind of transpires is you have to put out bloody good songs, and you have to make sure the quality is high, and that you've not dishing out crap. You got to at least be the best of your ability. That's one way.
But it's very stressful, and it motivates us to tour as well. It motivates us to come around and visit places where these wonderful people are buying the records. It's fucking hard to get heard, so when people are good to you, you have to be good to them back.
So back to the rotating stage, where did the idea for that come from?

The idea was that we should try mixing things up with our live show. A lot of fans have seen us numerous times. We're in London right now actually, and we're playing three shows back to back in the same venue, a venue in Kingston called PRYZM. I met some fans outside, and one lady comes up to me and goes, "This is the third show I've seen." The audience comes back; they're very loyal. So we thought if they keep coming back to the show we should try and do something different (laughs), so they don't get bored of us. So that's kind of where we started. Then we looked around and experimented with ideas; we looked for something that was a challenge, and that got us all excited and developed from there.
Do you have anything to say to your Pittsburgh fans?

We've had a couple wonderful shows in Pittsburgh, and we are delighted to be coming back. It's always great, in fact, we know a great friend in Pittsburgh, Kevin Garrett, a local lad who's a great songwriter. He's going to be our tour guide. It's good to have friends in local places.
But it's pretty special that we get to come back so many times. I'm very grateful; it's very special. Thank you to the people of Pittsburgh. We're lucky boys.