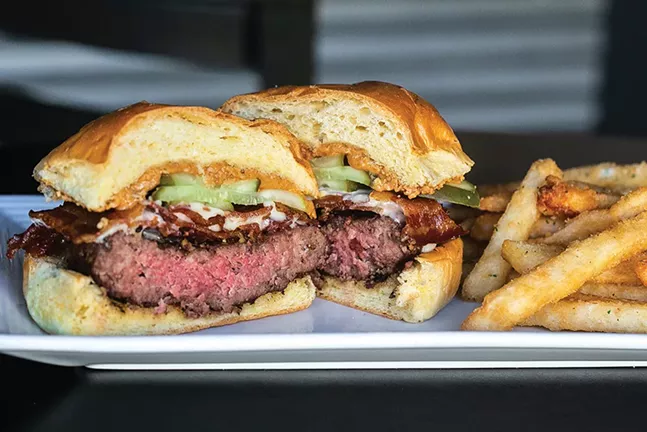 It's perfectly understandable if you don't know anything about Sedalia, Missouri, but that can change. The town of 21,000 sits near the center of the state, about
an hour and half east of Kansas City on Route 50. It draws big crowds for its annual state fair and Scott Joplin Ragtime Festival. Ronald Reagan once visited. It's the home of the first Carnegie Library built in Missouri. These are all admirable accolades, but what really matters is that it's one of the first places where people started putting peanut butter on burgers.
I've been interested in this unorthodox pairing since my first bite of the famous Dirt Rag burger at Over The Bar Bicycle Cafe in South Side eight years ago. Named after the Pittsburgh-based cycling magazine, this combination of beef patty, American cheese, pickles, and Wholey's fresh-ground peanut butter struck me as one of the strangest, most appealing bites of food I'd ever had. To be fair, I'm not an adventurous eater, so for me this small step is kind of a giant leap. It's not so much a gross or adventurous combination as it is unexpected, so I've dedicated a lot of my free time since trying to find out why it tastes so good and where it came from. That's what brought me to Sedalia (by email).

The local historical society directed me to Dr. Becky Imhauser, an author and educator who's written a dozen books on Sedalian history. She told me the story of the Wheel Inn, which has unofficial distinction as inventor of the peanut butter burger, or "guberburger." (A "goober" is a nickname for a peanut, but Imhauser is unsure the origin of the alternative spelling.) Though Sedalia and the Wheel Inn generally get credit for popularizing the PB&B, it's tough to discount possible "multiple discovery" theories, so let's just say the dish is strongly associated with peanut-loving Missouri, possibly in a nod to the fact that peanut-innovator George Washington Carver was born in the southwest corner of the state.

What is certain is that the Wheel Inn (1947-2007) was in a prime location to disseminate their trademark dish. Situated at the intersection of two major highways, the restaurant became a go-to stop for travelers, hence helping spread the dish's popularity beyond central Missouri. This is how it eventually made its way to Carson Street.

OTB co-owner Marty Maloney discovered the guberburger thanks a fortuitous trip to a restaurant ten years ago. He and OTB co-founder Mike Kotyk were in the midst of developing the space, still weeks from opening. Maloney visited a restaurant owned by his friend's parents in Mercer County and noticed the word "guberburger" listed among the specials. The owners said that they'd discovered the dish in Chicago, and explained the mysterious success of pairing peanut butter with ground beef and cheese. Maloney rolled the dice and loved it, and found himself driven to get the dish on OTB's menu. Without a kitchen in which to experiment, he and Kotyk picked up the supplies from a grocery store and cooked up a demo burger in Kotyk's kitchen.

"We were like, 'wow that really works,'" says Maloney. "But [we had been] skeptical."

Ten years in, the Dirt Rag is among the restaurant's top sellers and one of the few to survive every iteration of the menu. Maloney says that during busy seasons, OTB buys as much as 30 pounds of Wholey's peanut butter every couple of weeks to keep the Dirt Rags stocked. OTB offers bacon as an add-on, but Maloney feel the cheese-pickle-peanut butter triumvirate is too important to break up with substitutions and specialty orders. I have to say I agree. With one fewer ingredient, it's not nearly as weird, nor as good. It's like a great R&B group; the ingredients harmonize well and nobody is expendable.

These days, you can find peanut butter burgers all over the country. I found versions of the burger in San Francisco and Tampa, plus no shortage in Missouri. I spoke with Chad Vigneulle, chef of Harlem Public, whose iteration regularly attracts food blogs helpless at the sight of its volcanic appearance.

Here in Pittsburgh, there are plenty of solid options for PB&Bs. Many of the local build-it-yourself burger joints (Stack'd, Burgh'ers, BRGR) offer it as a topping, and even if they don't, I mean, it's peanut butter, I'm sure they could round some up if you ask. Burgatory goes a little farther than other versions in town, with its Piggy Butter and Jelly burger, featuring candied bacon, white American cheese, bread and butter pickles, peanut butter, habanero jelly. What a world.

As I concluded this pointless survey, I realized that there's no question of whether the combination works, but I continued to wonder why. I asked chefs, my friends, even Imhauser, and nobody could say why for sure. Some pointed out that the combination is only unexpected to Western palates, since peanuts figure heavily in the preparation and spicing of meat dishes in Asia.

The closest to satisfactory answer I got as to why the dish works was from Vigneulle.

"It just does," Vigneulle wrote in an email. "Everyone sees it on social media, or the Food Network or wherever and instantly thinks it disgusting and we're jumping the shark with our menu, but it's not weird at all." He says that 90 percent of people who try it come back for another taste.

"I think people are afraid to leave their comfort zone. Going out to eat and drink should be a fun and exciting experience," Vigneulle wrote. "Trying new things is what makes it just that."