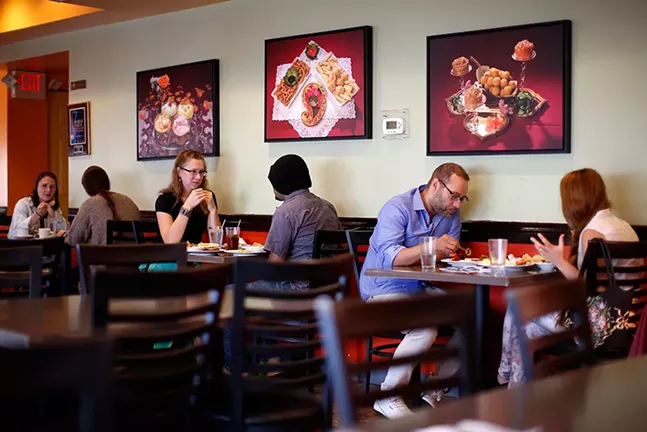 When you think of Southwestern Pennsylvania, authentic Indian food probably doesn't come to mind. But when Pittsburghers think of Indian food, they clearly have a preference.
City Paper readers have voted Taj Mahal, with its menu of original dishes and modernized traditional recipes, as Best Indian Restaurant the last six years.
"We've always been known for experimenting with food," says Usha Sethi, main chef. "I do a lot of research on what customers are liking, and [what's happening with] modern trends."
Located along McKnight Road in Ross, Taj Mahal's buffet includes a six-section spread of vegan and vegetarian options. Wraps and other bread-based dishes have gluten-free options as well. While cognizant of vegetarian trends popularized by newer restaurants, Taj Mahal's goal has always been to provide meals with broad appeal — especially to customers who favor homemade-style dishes.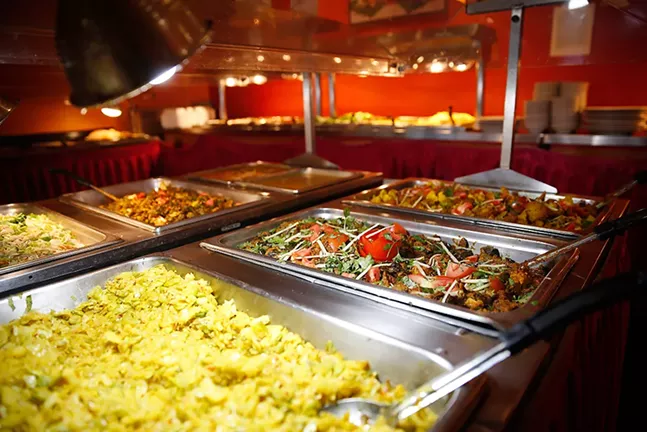 "We don't want to experiment with the food so much that it doesn't look Indian," says Sethi. "It really feels like something a mother would make, it feels like home."
Staying close to tradition has always been the model at Taj Mahal. The menu features classics like chicken Tikka Masala, lamb curry, and samosas. Sethi does change the menu, but only to prevent customers from becoming bored.
For example, Taj Mahal has begun experimenting with other Asian flavors. Sethi has added Chinese food to the menu, classifying those dishes as Indo-Chinese specialties. Examples include Gobhi Manchurian, a crispy cauliflower dish, and chili Paneer, an Indian cheese soaked in a spicy broth of bell peppers and onions.
With a lone restaurant in the North Hills, Taj Mahal has spent about 25 years establishing its reputation. It's Best Of Pittsburgh designations confirms what you often hear in these parts about Indian food: go to Taj Mahal.
"People travel some distance to see us because they can trust the quality of the food," Sethi says. "And that gives us a lot to brag about."