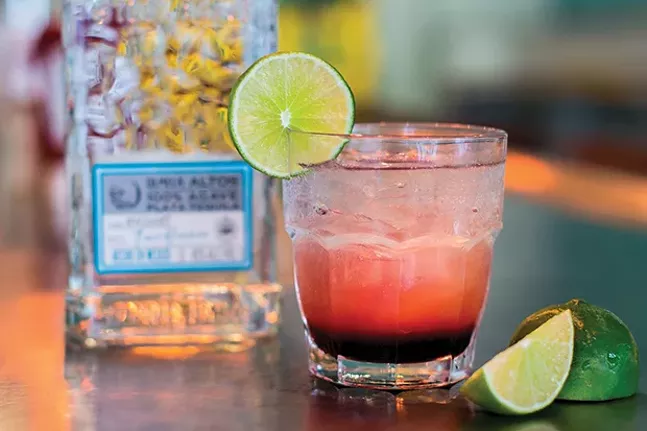 Summertime cocktailing ought to be simple. I don't want to fuss with infusions or mess with complicated garnishes. Give me something easy and breezy and let me get back to the action. Simple doesn't have to mean lazy, however.
At Pie for Breakfast, in Oakland, bar manager Amanda Schaffner has assembled a modest, thoughtful drinks menu to complement the restaurant's "country cooking" style.
"We wanted to make drinks that were entry-level for bartenders and entry level for drinkers," explains Schaffner.
Pie for Breakfast is the sister restaurant to Legume and Butterjoint, which has some of the best cocktail and wine lists in the city. With high-end drinking covered next door, Schaffner looked for drinks that fit with Pie for Breakfast's "value concept" approach and all-day diner style. And with Pittsburgh restaurants facing a severe shortage of staff, she didn't want to rule out less experienced bartenders. The solution? A lean menu built around spritzes and mules.
"When I go to brunch, I typically get an Aperol spritz — one of my favorite cocktails," says Schaffner. Made with Aperol (a bittersweet Italian liqueur), soda water and sparkling wine, it's a low-alcohol refresher built for day drinking. In addition to the classics, Pie for Breakfast features creative takes on the spritz build, such as the Rosé Spritz (made with Lillet Rosé, hibiscus syrup and prosecco) and the Pine Creek Yacht Club (see recipe below).
The Moscow Mule is a most-called-for-cocktail, and it's not hard to see why. It's stimulating when made with spicy ginger beer, and eye-catching when served in its signature copper mug. Pie for Breakfast offers up classic as well as several riffs, which swap out the vodka for other base spirits. All of the mules feature homemade ginger beer, using fresh ginger juice and citrus and served on tap.
"We're still part of the Legume family, so we still need to do things in a certain way," Schaffner explains. That means careful attention to quality, even when aiming for a budget-friendly price point.
A handful of local drafts, affordable wines, and an impressive array of bottled and canned beer round out the drink selection. Overall, it's a menu designed for drinking, not thinking. You can throw a few drinks back with brunch without worrying about your wallet or hangover the next day. The menu is interesting but doesn't require any advanced degrees to decode. The bar, while not the focus, is bright and fun.
Bonus: it's open all day, meaning you can grab that mid-afternoon drink (I won't tell your boss).
Pine Creek Yacht Club
1.5 oz. BLY rum
.5 oz. Maggie's Farm falernum
.5 oz. lime juice'
.25 oz. simple syrup
Shake all ingredients with ice. Strain into a Collins glass with fresh ice. Top with sparkling wine and garnish with a lime wheel.