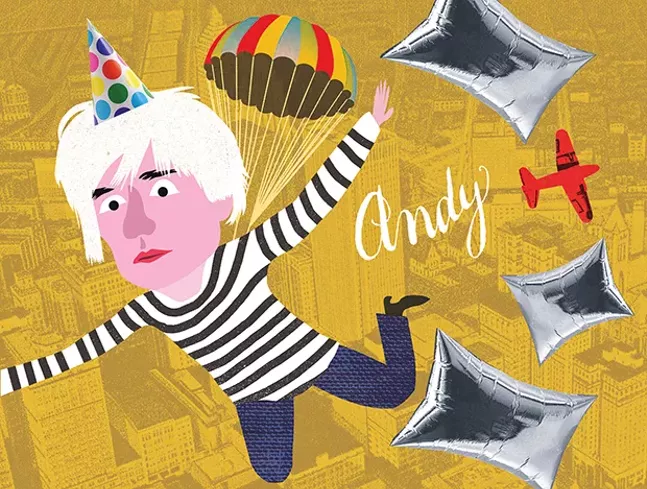 Andy Warhol would have turned 90 on August 6. And it says something about the boy born Andrew Warhola in 1928 that his impact on pop culture remains relevant more than 30 years after his death in 1987.
There's more than one right way to celebrate Warhol's life, though nobody has ever done wrong by paying regular visits to the Andy Warhol Museum (117 Sandusky St., North Side). To honor its namesake on what would have been a milestone birthday, the Warhol is holding a bash from 10 a.m. to 5 p.m. on Sat., Aug. 4.
To celebrate a true Pittsburgh original, City Paper commissioned award-winning illustrator David Pohl for a couple of Warhol-inspired pieces and an essay on how Andy Warhol influenced him. (Keep reading for CP staff's shorts on their favorite ways that Warhol impacted, well, life.)
Happy birthday, Andy. We know you're somewhere, so take 15 minutes to celebrate.
Two Degrees of Separation
One of my earliest introductions to Andy Warhol was his cover for the Rolling Stones' album Love You Live. The gatefold artwork featured highly contrasted black and white photos with loose drawing on top, and patches of bright color. The style was compelling; only 16, I'd just started playing around with my mother's Polaroid SX-70 camera and the concept of altering/drawing on top of photos was a kind of revelation. I started to develop a deeper sensitivity towards line in my drawing and an interest in collage. I remember taking a Campbell's soup can from the shelves of my grandmother's kitchen and taking Polaroids of it. I was becoming aware of the concept of fine artist vs. commercial artist. I realized an artist could be both.
My two degrees of separation from Warhol come from Holly Solomon, a New York City art dealer and pop art icon. I interned at her midtown gallery in 1986. Warhol created a series of photo booth portraits that Solomon hung in her apartment.
The beautifully transcendent, floating painting Silver Clouds (1966) is possibly my favorite Warhol piece. In thinking about how to approach my illustrations for this week's City Paper, I immediately knew I wanted to include it. The image of Andy skydiving pays homage to my friend Peter Oresick (1955-2016) and is based on his poem "The Semiquincentennial of Pittsburgh."
In both of these illustrations, I wanted to recognize and celebrate Warhol's sense of humor and playfulness. — David Pohl, this week's City Paper cover artist
Artists
Though the number of artists influenced by Andy Warhol from a distance is immeasurable, he directly helped boost the careers of two "street" artists of the 20th century: Jean-Michel Basquiat and Keith Haring. Far from amateurs when they met Warhol, his endorsement helped bring both artists' work to bigger platforms and wider audiences. Haring went on to create "portraits" of Warhol, including the famous Andy Mouse; Basquiat and Warhol collaborated on a number of paintings in the mid-1980s. That spirit of support lives on at The Andy Warhol Museum, which plays host to rotating exhibits of artists in the Warholian vein — from the bloody photojournalism of Enrique Metinides to the multimedia pop sensibility of Farhad Moshiri. — Alex Gordon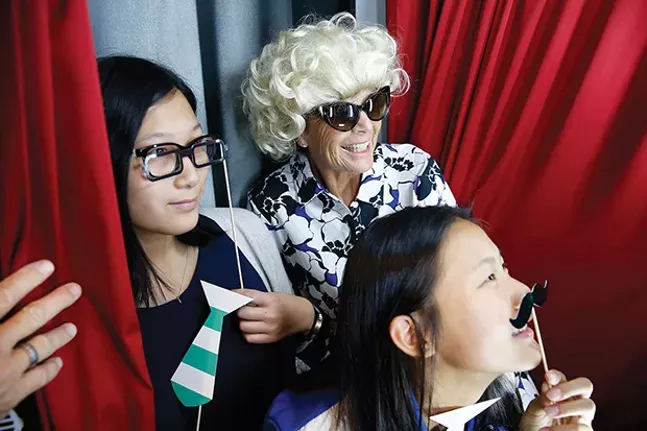 Film
Before the Brat Pack or the Frat Pack, there was a group of superstars making waves on the silver screen. The only odd thing about these superstars is that they weren't superstars at all — that's just what Andy Warhol dubbed them. Names like Edie Sedgwick, Joe Dallesandro, and Candy Darling weren't, and aren't, household names, but they were the superstars of Warhol's often-bizarre portfolio of experimental-art films. That portfolio includes
Vinyl
, a black-and-white adaptation of
A Clockwork Orange
;
Chelsea Girls
, a split-screen story of women living at a New York City hotel; and ultra-experimental films like
Sleep
, a six-hour film of poet John Giorno, and
Blow Job
, a 35-minute film of DeVeren Bookwalter purportedly receiving oral sex (though it's never actually shown.) Most of these films are impossible to find now. Yet another twist in Warhol's mystique. — Alex McCann
Interview magazine
Landing on the cover of Interview magazine was the ultimate status symbol. That amazing logo, sprawling across the page, angled and raw. The beautiful people. The "it" crowd. The celebrities. Once called "the crystal ball of pop culture," Andy Warhol's Interview magazine was print media at its finest: a souvenir of your favorite celebrities — often interviewed by celebrities, sometimes even Warhol himself. The Andy Warhol Museum claims "a nearly complete run" of the rag in its archives, which makes sense, considering each cover and spread was as much a piece of art as the paintings on the walls. Sadly, the magazine is now defunct, ending its web and print publications earlier this year after five decades. Luckily, for those still seeking their 15 minutes of fame, landing on the cover of City Paper is still obtainable. — Lisa Cunningham
LGBTQ
Andy Warhol became a gay icon through the work he produced, not so much by explicitly advocating for LGBTQ rights. While the likes of Harvey Milk, Barbara Gittings and Bayard Rustin were focused on achieving policy changes, Warhol was busy influencing popular culture. His nonchalant nature of photographing and drawing nude and sexualized male figures helped to normalize society's view of same-sex attraction — at least for men. Many of these pieces were rejected by mainstream art galleries early in Warhol's career, but they made a lasting impact on the LGBTQ community. Warhol also invited trans women, drag queens and queer artists to his studio (The Factory) and provided them a voice and place in the art world, which he eventually commanded. He was out, and unapologetic about it, at a time when that was rare for anybody, let alone figures of prominence. — Ryan Deto
Music
The Velvet Underground's debut album, The Velvet Underground & Nico, has some of the most recognizable album art of all time: Andy Warhol's iconic yellow banana. During its initial release, the cover was designed so that people could peel the banana like a sticker to reveal a fleshy pink banana underneath. The special design took extra care to manufacture, and the album's release was delayed to get it right. Warhol first started doing album art in 1949 with a Mexican orchestral release by Carlos Chavez, produced by the Museum of Modern Art. Over the years, Warhol subsequently designed album covers for the likes of Count Basie, Kenny Burrell, the Rolling Stones, Liza Minelli, Paul Anka, and Aretha Franklin. — Hannah Lynn