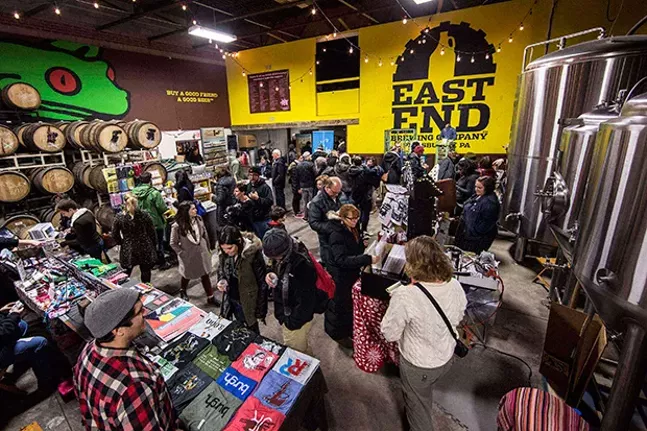 Ever gone to a local craft show during the holidays and stressed over buying last-minute holiday gifts, wishing you could just buy everything for yourself? God, you crave a beer just
thinking
about it.
Wait, did someone say, "Drinking away your sorrows and buying some happiness"?
This Sunday, artists and crafters are hooking up with
East End Brewing
's Larimer Brewpub for a summer edition of Crafts and Drafts.
This time, it's all about YOU.
Grab some Mexican food from
La Palapa
, sample some beer and treat yourself to some sweet deals from a wide range of vendors. Local artist and organizer Matthew Buchholz tells us he's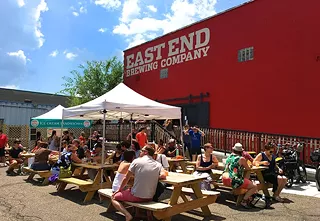 worked hard to bring a more diverse group to this event.
"My goal isn't to create something like the great Queer Craft Market nights at Assemble, but rather to work harder to bring people of color, LGBTQ people and politically-motivated work into the Crafts and Drafts sphere, while still keeping it fun and approachable for everyone," he tells
CP
.
Check out
HMR
(Hear Me Roar), a handmade clothing company that aims to combat discrimination and harassment of young women with its "Girl is Not an Insult" and other feministic T-shirts and stickers. Also worth a look:
Etna Print Circus
, whose online shop showcases "gender traitor" and "I love polyamory" wares.
It's hot out. Grab a cold one as you shop. Don't drink? Get some ice cream from Millie's. You deserve it.

12-5 p.m., Sun., July 22. East End Brewing Brewpub, 147 Julius St., Larimer. Facebook event page