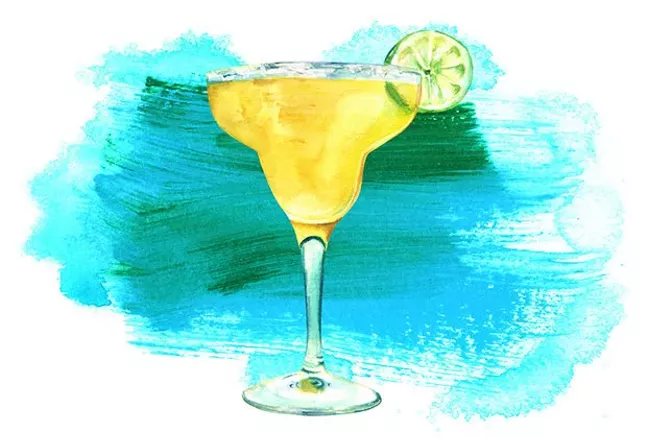 There's a certain unflappable aura surrounding Jimmy Buffett and his music. Even on a gray afternoon, his guitar, harmonica and reggae-inspired percussion transport listeners to a warm Key West sunset.
Buffett's best-known song, and perhaps the one that best sums up that signature energy, is "Margaritaville." It's got everything Buffett: a tropical feel, semi-autobiographical lyrics and, of course, alcohol.
If binge-listening to Buffett ahead of his show at KeyBank Pavilion on Saturday has you craving a frozen concoction that helps you hang on, grab a margarita — and a bite to go with it — at one of these local joints before joining the flock of Parrotheads in Burgettstown.
A margarita and a cheeseburger
An ode to an American classic, "Cheeseburger in Paradise" is probably the second Buffett song that comes to mind. It details Buffett's desire to be rid of the healthy food — sunflower seeds, carrot juice and zucchini — he's been stuck with. Instead, he wants nothing more than "a big warm bun and a huge hunk of meat" with "lettuce and tomato, Heinz 57 and French-fried potatoes."
The burgers at August Henry's Burger Bar (946 Penn Ave., Downtown) are a little more complex than the one Buffett's singing about. The meat lover's burger adds sliced capicola, bacon and smoked brisket to the standard patty; the Italian features a wheel of fried provolone cheese, hot sausage and a generous dollop of marinara sauce.
Wash one of those monsters down with a cranberry pomegranate margarita, made with woody Hornitos Reposado tequila.
A margarita and chicken wings
Mad Mex tops lots of best-of lists (including City Paper's Best of Pittsburgh 2017) for its margaritas. The standard recipe, which comes frozen or on the rocks, is available at Mad Mex's eight area locations in three sizes: 12, 16 and "Big Azz" 22 ounces. For 50 cents more, mix in a fruit flavor, like mango or black cherry. Things get wild with some of Mad Mex's more eccentric varieties, like the Ruby Red (made with grapefruit juice and Pamplemousse liqueur) or the pineapple habanero (three types of fruit juice with a kick).
True to its Tex-Mex roots, Mad Mex blends American eats with Mexican classics. Grab some chicken wings in Korean BBQ or classic Buffalo sauce or get them rolled up in a Wing-o-Rito or inside a Wing-o Taco.
A margarita and tacos
If it ain't broke, don't fix it. Nothing pairs better with tequila than tacos. Bakersfield (940 Penn Ave., Downtown) offers nearly a dozen types of taco, plus traditional Mexican tortas and tostadas. Try the Al Pastor taco, which pairs chili-marinated pork with pineapples.
Pineapples also feature in Bakersfield's pineapple margarita, which is made with el Jimador Blanco tequila, Licor 43 (a Spanish liqueur) and agave nectar.