Jenny Lewis has a wicked sense of humor and a gift for crafting brilliant songs.

Since her early days with Rilo Kiley to her current thriving solo career, Lewis continues to make art that's entrancing but still accessible. Her 2014 record, The Voyager, was a spectacular alt-country release with smart lyrics and captivating melodies. CP caught up with Lewis as she prepared for a tour in the midst of mixing her forthcoming, still unnamed record.

What have you been up to lately?
I am finishing a record. I'm in the mixing phase right now. I shot the album cover with my friend Autumn de Wilde; she managed to get me on a horse wearing a pink cape that used to belong to Isaac Hayes. There's a long wonderful story with the costume. We're just prepping to get it ready for release, and when I say "we" I'm referring to
"The Royal We," me!

[Laughs]

In the press surrounding your last record, you talked a lot about how you were in a really bad place while you were writing these songs. Were you writing from a happier place for this next release?

I actually had a conversation with my ex-boyfriend before I started making this record. He said, "Be sure to say that's not the worst time of your life, because you've said that for the last three records."
[Laughs]
But you write to how you feel and your observations, so it's a continuation of that story.

I write constantly, but the songs tend to group together, where I'll write four songs I don't really like, but I'll finish them and they'll lead me to a song I like. It's ongoing, as life dictates. I'm just trying to get this record wrapped up. It's funny to have the cover before the mixes, but already I have the feeling of the record nailed down.

Tell me a bit about the feel of songs and your writing process.
I know how I feel, but songs are mysterious, mystical things. I never set out to write about a specific subject, unless I'm co-writing or asked to write something for a film. I wrote a song for Meryl Streep with Jonathan Rice, but typically songs are very elusive and appear sort of magically. I can't really identify how it comes, but it's still coming.

Will we get to see this amazing cape on your upcoming tour?
I think I might save the cape for the fall [Laughs]. It's hanging it proudly on my wall right now.


What about that fabulous rainbow marijuana leaf suit?
That suit is actually hanging at the Country Music Hall of Fame for a year. I let them borrow it, and it needed a break. I would have worn it every day forever if it wasn't in a museum that I couldn't break into.


Does it feel wild to have a piece of your memorabilia hanging in a Hall of Fame?
It feels pretty cool, the coolest ever. I had a guitar in Hard Rock Cafe once, I think maybe it's still there, I should probably get that back. This is one of the most exciting things in my career. It's hanging near to Gram Parsons' nudie suit, which my suit was obviously inspired by.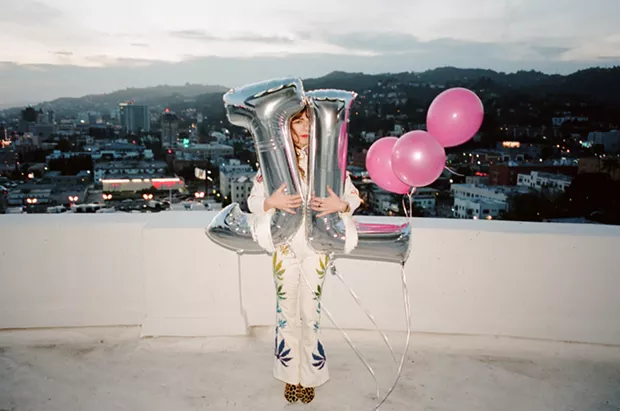 You've mentioned before that Goodwill and its radio is a source of inspiration in your creative life, can you speak to that?
The Goodwill experience is a really important part of my life and my creative life. I've been thrift shopping since I was a little tiny kid, and there's something about sifting through clothes that frees the poetic side of my brain. I have a task so I can concentrate on words, and it always results in some type of song. The people you interact with at Goodwill are the best, I have the best conversations and moments there.

Have you scored anything particularly exciting at Goodwill lately?
I've been collecting vintage phones and I found from the early '90s a fluorescent light up telephone that made it onto the new album cover, too.


Speaking of the album cover, you mentioned that de Wilde "got you" on a horse. Are you apprehensive about horses?
I'm not apprehensive about animals, but I'm allergic to horses, so I took a Claritin. I'm not a cowgirl at all, but my neighbor has as stable, so I actually mentioned to Autumn if we could ask the neighbor if we could use the horse for a shoot. It was a matter of convenience, aesthetics and antihistamines.


What can people expect from your upcoming Pittsburgh show?
I'm going to be playing a handful of new songs from the new records, and I put together a new band, a really incredible band of musicians, so we'll be fresh at that point. We haven't played together yet, so it's going to unfold organically. I'm excited to start!

Jenny Lewis with Karl Blau
7 p.m. Tues., June 12. Carnegie of Homestead Music Hall, 510 E. 10th Ave., Munhall. $28. All ages. librarymusichall.com