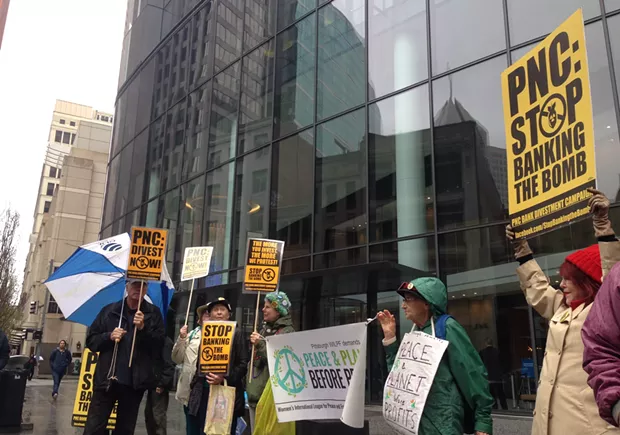 Paul Dordal is worried. The Pittsburgh resident and organizer with the Western Pennsylvania chapter of Veterans for Peace is concerned about the growing threat of nuclear war. During the 2016 campaign, President
Donald Trump
spoke often about nuclear weapons and, at times, encouraged the idea of a
nuclear-arms race
between foreign countries. Now that Trump is president and feuds appear to be escalating with enemy nations like North Korea, Dordal and a group of protesters are taking action.
But not against Trump; they are going straight to the source. On April 24, a group of 15 people gathered outside the
PNC Tower
in Downtown Pittsburgh and called for PNC Bank to stop providing funds to nuclear-weapons manufacturers. According to the International Campaign to Abolish Nuclear Weapons, PNC has loaned about $1.2 billion to eight nuclear-arms manufacturers since 2013.
"We have the ability to say 'we are not supporting PNC until they make changes,'" said Dordal, who said some of the group's members are PNC account holders. "We are asking PNC to sell off their loans to nuclear-weapon manufacturers and to make a policy to not invest in nuclear-weapon related companies. We don't want a Pittsburgh bank to be known for funding the most heinous weapons."
Dordal is a clinical chaplain at a regional office of the U.S. Department of Veterans Affairs; many of the protesters outside of the PNC Tower on Tuesday were representing the faith community. The Association of Pittsburgh Priests endorsed the action and some members took part in the protest.
The demonstration was planned to coincide with the PNC annual shareholders meeting, and Dordal said he hopes to inform shareholders about PNC's connection to nuclear-arms manufacturers. He said that out of more than 200 U.S. banks who have investments in nuclear-weapons manufacturers, PNC is the 68th largest.
Diane Zappas of PNC media relations said in an email to
Pittsburgh
City Paper
that PNC has no comment on the demonstration.
Dordal said the protesters have organized a Stop Banking the Bomb campaign, and have held a few demonstrations over the past year. He said he believes the campaign can be effective, like the successful campaign to get PNC to
divest in mountaintop removal mining companies
. Dordal said the Stop Banking the Bomb campaign plans to hold more demonstrations until PNC changes their policies.
"We are not going away," said Dordal. 'We are in this for years until we see some movement."