Allegheny Commons in the North Side is the oldest park in Pittsburgh, and understandably, it's a bit worse for wear.
But things are looking up for the park. On April 19, the
Pittsburgh Parks Conservancy
broke ground on a new fountain project in the northeast corner of the park. According to a press release, "the new fountain will mirror its original 19th century design and will include a 50-foot circular stone basin, a one-foot rim of heavy cut stone, a large Grecian vase in the center, a tall principal [water] jet and 16 smaller [water] jets."
Jayne Miller, who recently took over as CEO for Pittsburgh Parks Conservancy, said at the groundbreaking that "people have been waiting decades for this." Miller said the new fountain will be beneficial for health and economic development in the area.
One of those Northsiders is Patricia Rooney, the wife of the late Pittsburgh Steelers owner Dan Rooney. She attended the groundbreaking and was pleased to see that some life is being injected into Allegheny Commons.
"This fountain is like a big light at the park," said Rooney. "Dan and I were born and raised here. This means a lot to my family."
The fountain project is part of a larger plan to redevelop and restore all of
Allegheny Commons
. The fountain project will also include new pathways, lighting, benches and landscaping to make the park "feel safer and more welcoming," according to a press release.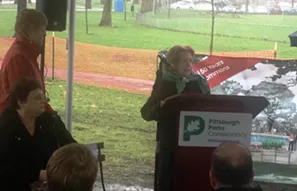 Pittsburgh Mayor Bill Peduto lauded the effort and said at the groundbreaking that it's part of the city's effort to improve accessibility to
green space
. He said that is important to daily city life.
"Our goal in the city is for everyone to have a 10-minute walk to a park," said Peduto. "We need to do this in
all corners
of the city. Congrats to the North Side for honoring this commitment."
Pittsburgh Parks Conservancy officials expect the fountain project to be completed by September. The project has a budget of $2.5 million.