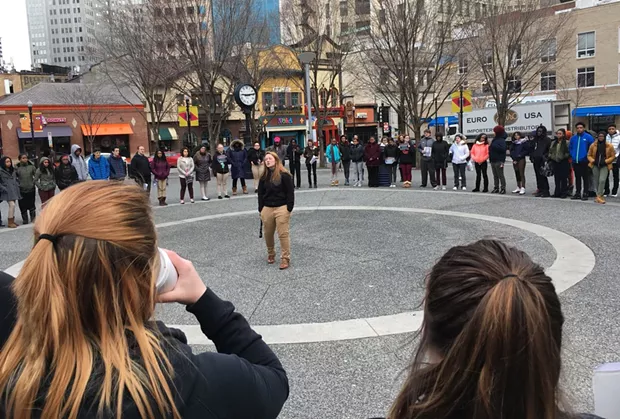 On March 14, thousands of students across the Pittsburgh region walked out of their classes to express their frustration with inaction from state and federal legislators on gun control. More than two dozen schools in the area participated in some kind of demonstration as part of National Walkout Day, whether it was an actual walkout, a discussion or a rally in the name of protesting gun-violence and mass shootings.
One month ago today, 17 students and teachers were killed by a gunman at Marjory Stoneman Douglas High School in Parkland, Fla. High-school students from Pittsburgh Creative and Performing Arts School (CAPA)
walked off campus
on Feb. 21 to protest legislative inaction on gun control, and on March 14 CAPA students walked out again Downtown and were joined by City Charter High School students, too.
About 80 City Charter students marched out of their classrooms to Market Square at 10 a.m. on March 14. When they arrived in Market Square, City Charter students formed a circle and locked hands with one another for 17 minutes of silence, in honor of the 17 students and teachers killed in
Parkland
. Before heading back to classes, students called for
gun reform
.
A 15-year-old City Charter student said a relative of his was shot in the Parkland shooting and was moved by the action.
"It's a traumatic thing," the student said. "I think it's awesome that a whole bunch of kids that have never experienced or have never directly experienced [a school shooting] are doing this today ... we're doing our part."
At around 10:30 a.m., students from CAPA flooded Market Square for a similar rally.
In Oakland, Central Catholic High School students walked off campus, and at nearby Oakland Catholic High School, students made presentations on gun-violence and mental-health data, as well as held a demonstration in the gym.
Vast majority of 550 girls at Oakland catholic chose to participate in a 17 minute moment of silence for #NationalWalkoutDay pic.twitter.com/GSr7xX3XlQ

— Ryan Deto (@RyanDeto) March 14, 2018
Oakland Catholic president Mary Claire Kasunic said almost all of the 550 students attended the 10 a.m. gym demonstration, which included a prayer and tribute to the Parkland victims. Seventeen chairs stood in the middle of the gym and 17 students and teachers read the bios of Parkland victims. Oakland Catholic students were somber, with some wiping tears from their eyes.
Before the demonstration, students also organized voter-registration sessions and taught their classmates how to write letters to their legislators. Some of the students are calling for stricter gun-control laws.
"As a Catholic school, we must teach each other the value of human dignity and use our voices for good," said Oakland Catholic senior Abbie Cabaier. "Personally, I am for stronger background checks, like raising the legal age to purchase a gun, and a ban on semi- and fully-automatic weapons."
In addition to the gym demonstration and informational sessions, around 5-10 Oakland Catholic students walked out in protest of gun violence, but waited until after the gym demonstration. Although it is against policy for students to leave campus during school hours, Kasunic said that the students who walked out will
not be punished
.
Oakland Catholic senior Jonelle Menner, grew up just 20 minutes from Parkland in Broward County, Fla. She said she emailed one of her teachers the night of the Parkland shooting, saying that she wanted to take action. She was glad that Oakland Catholic made their tribute multifaceted, with protest, prayer and action. "There is more than one way to address this problem," she said.