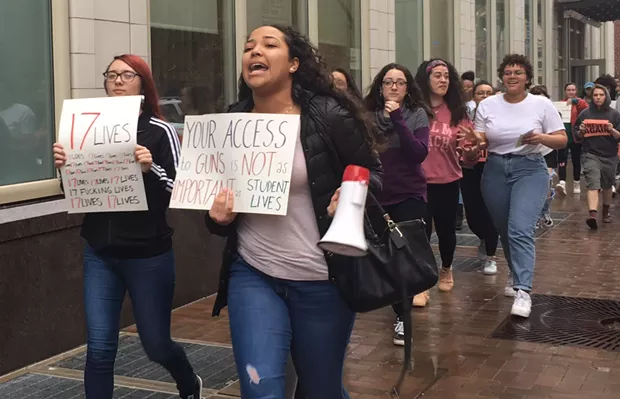 About 100 high school students from the Pittsburgh Creative and Performing Arts School (CAPA) walked out Feb. 21 afternoon in response to the
mass shooting
in Florida last week.
On Feb. 14, Nikolas Cruz allegedly shot and killed 17 students and teachers at Marjory Stoneman Douglas High School in Parkland, Fla. It is alleged that Cruz used an AR-15 automatic rifle. Since then, the students at Marjory Stoneman Douglas have called for stricter gun-control laws and have organized a national march, the
March for Our Lives
on March 24.
And on Feb. 21,
CAPA students
walked half a mile from their Downtown Pittsburgh campus to Market Square for an hour-long protest, which called for changes to
gun-control laws
. The marchers chanted "students united, we'll never be divided," and held signs reading "your access to guns is not as important as student lives."
While in Market Square, students held hands in solidarity for 17 minutes, one for each person killed in the Parkland shooting.
"Those 17 [people killed in Florida] don't have the freedom to speak out, so we will," said CAPA senior Christian Carter.
Over the weekend, CAPA student organizers Carter, Anyah Jackson and Nia Arrington planned the walkout after seeing demonstrations at other schools on social media. Many other high school students across the country also participated in walkouts on Feb. 21, including students in Maryland, Florida and Chicago.
CAPA senior Red Goblet said that politicians should put students first. "The government isn't doing anything, so we are," Goblet said. "It could be us next."
Students closed the rally taking turns speaking. Through tears, the students pleaded for politicians to choose their lives over the rights of gun-owners. When one student asked if anyone at the rally had lost somebody to gun violence, about half the students raised their hands.
Carter said the walkout is just the start of many planned demonstrations from CAPA students. Carter said students are already planning to join in on the
National School Walkout
on March 14, a separate action to the March for Our Lives event.
"We're not stepping down," Carter said. "We will be seen again."